User Experience
Whether you're developing a website or application, UX directly impacts your target market's thoughts about your brand.
UX & UI Design Services
for a strong user experience
Capabilities
UI/UX Design
User Flows & Personas
Wireframes
Prototyping
High-fidelity Designs
Adobe XD
Sketch
InVision
Our goal is to ensure that your users have positive interactions with your business.
To achieve this, our UX
/
UI
 experts design digital experiences that are purposeful and enjoyable for your users
.
This improves
engagement
and
results
in
higher conversion rates
and desired
outcomes
.
User Experience
case study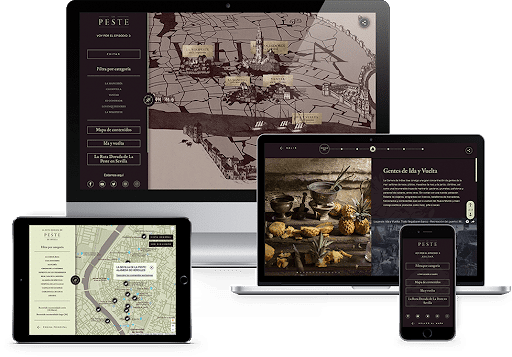 The Plague
We were recruited by "El Cañonazo" to create the UX/UI and build the official web application for Movistar+ TV series "La Peste" (The Plague), to support their transmedia universe.
Later on, for the second season, we designed and built a web platform to support an Alternative Reality Game that was set online and offline in the streets of Seville.
We get more applicants because of the easy process of filling out the form. We notice that people spend more time reading on content that they couldn't find before, and overall we have way more possibilities for conversion and future automatisation of the entire promotional/sales funnel.
VP of Marketing
HRC Culinary Academy
Let's create a delightful digital experience
Why is User Experience important?

The value of good user experience is beyond crucial. How users navigate through your website and how they fulfil their needs is what leads them later to proceeding with essential actions. Not only does the user turn into a loyal customer, but you provide a joyful environment where website visitors find what they need.
How can User Experience help my business grow?

Every moment the users spend on your website is a moment of impact – building their opinion for you, deciding whether to trust you or not. This means good User Experience is mandatory if you want your users to become clients. Not only that, but if they have a great user experience at your website, it's likely they also recommend it to others. And client by client, your business will naturally and in value grow.
Can User Experience improve my conversion rate?

There is a tight connection between a user landing on your website and his or her decision to exit or make a conversion. This happens within seconds after landing on your website – it takes 15 seconds for a user to decide whether they want to spend more time or exit right away. User Experience empowers their choice and leads to higher conversion rates in no time.
Elevate your brand
expanding your digital presence