Quizvideo: User-Centric UX/UI and Web Design
At a time when the competition among live trivia apps was fierce, Quizvideo was able to differentiate themselves and prove the effectiveness of their business model. Our strategic branding, business analysis and development work helped them to prove their business model and attract the attention of one of the biggest Spanish TV channels.
Custom Mobile
Web Application Development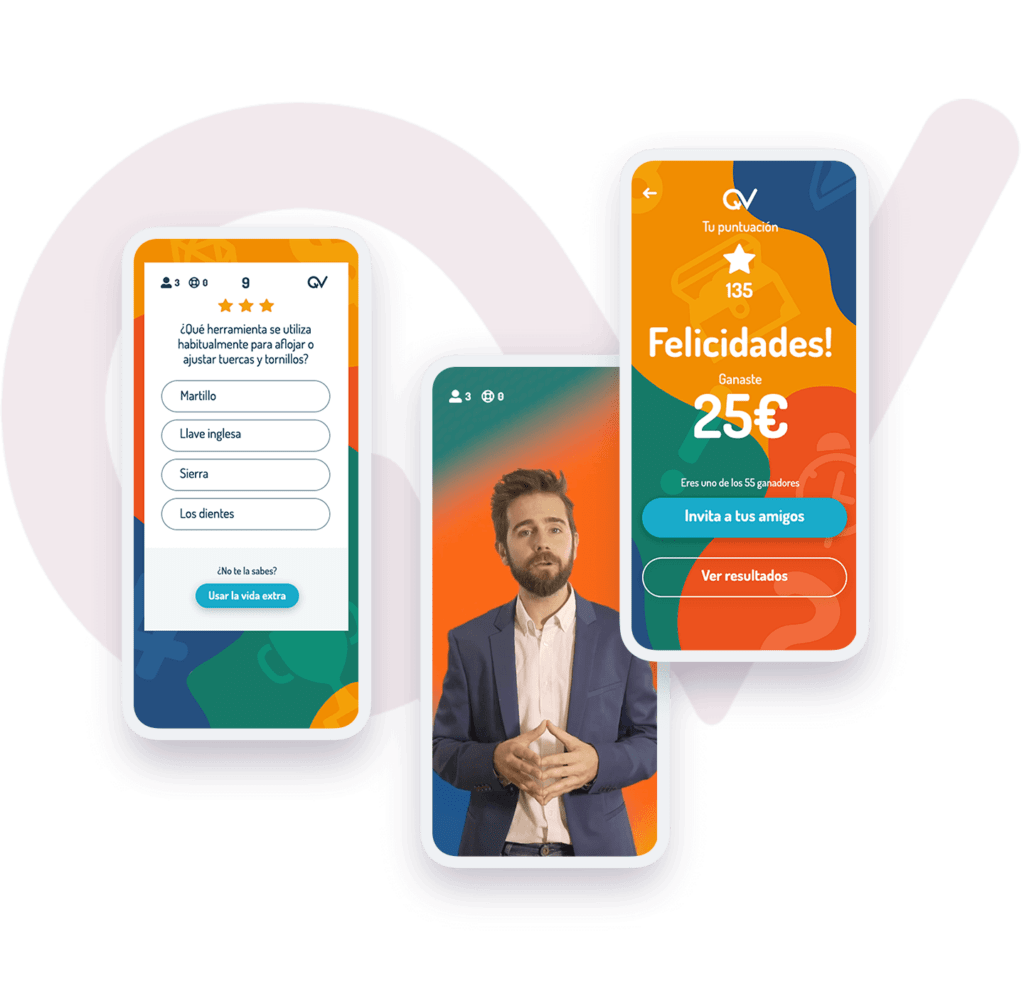 About Quizvideo
Quizvideo was a mobile web application that offered live gameplay and rewards, challenging players to accumulate points faster than their competitors.
Accessible on any device, the app featured a diverse range of trivia games covering topics such as popular culture, sport, history, and science.
Users could leverage their knowledge to earn points, win prizes, and compete against friends and other players worldwide.
Project
Details
Services provided
Brand identity
Logo design
Graphic design
UX/UI design
Web design
Mobile web app development
Stack: HTML/CSS/Angular/Node.js/PosgreSQL
AWS hosting setup
Project management
CTO
The Project
Quizvideo was an exciting mobile web application tailored to trivia enthusiasts in the Latino market. Our team was responsible for developing a captivating brand identity, creating the mobile web application, and providing ongoing technical support for the games.
For the branding, we aimed to cultivate a vibrant and enjoyable atmosphere, employing bright colours, smooth shapes, and an energetic ambience. Our design also had to be adaptable to both small and large screens, ensuring a consistent visual experience.
We encountered the challenge of daily games, sometimes having two games occur on the same day. To overcome this, we harnessed modern technologies and streamlined processes to ensure swift development and delivery of content.
Our dedication and hard work paid off when the application was later integrated by Mediaset into one of their mobile apps.
Client
Testimonial
We sold the project to Mediaset, one of the Spanish leader TV networks. The project was a huge success and led to new developments.
Edu Celorio - CEO
Quizvideo
The branding and design
of Quizvideo
Research and analysis
As part of the research process, we conducted a thorough investigation into the target audience, competitors, and industry trends. This knowledge enabled us to create a unique and effective brand proposition for our client.
Visual identity
The identity of Quizvideo revolves around creating a fun and joyful experience for players, employing bright colours and smooth shapes to establish a distinctive and lively atmosphere.
Mobile first design
The visual identity was meticulously crafted to ensure a seamless experience for players across all devices, whether they were using small screens or large format displays.
Brand strategy
Our strategy focused on developing an engaging and successful brand that resonated with the target audience. We identified the key attributes of Quizvideo and crafted a visual identity and messaging consistent with those attributes.
Colour palette
Quizvideo's visual signature lies in the interplay of vibrant colours and clean white elements. The consistent design elements foster a sense of harmony across all screens.
Looking for a reliable digital agency to help with your start-up project?
Whether you need help with branding, web development, or digital marketing, we have the skills and expertise to help you succeed. Contact us today to learn more about how we can help you take your start-up to the next level.