BCC Law Firm: Stronger Online Identity
With a visually impactful website, we streamlined the content creation process and enhanced BCC Law Firm's online presence.
Website Design
for BCC Law Firm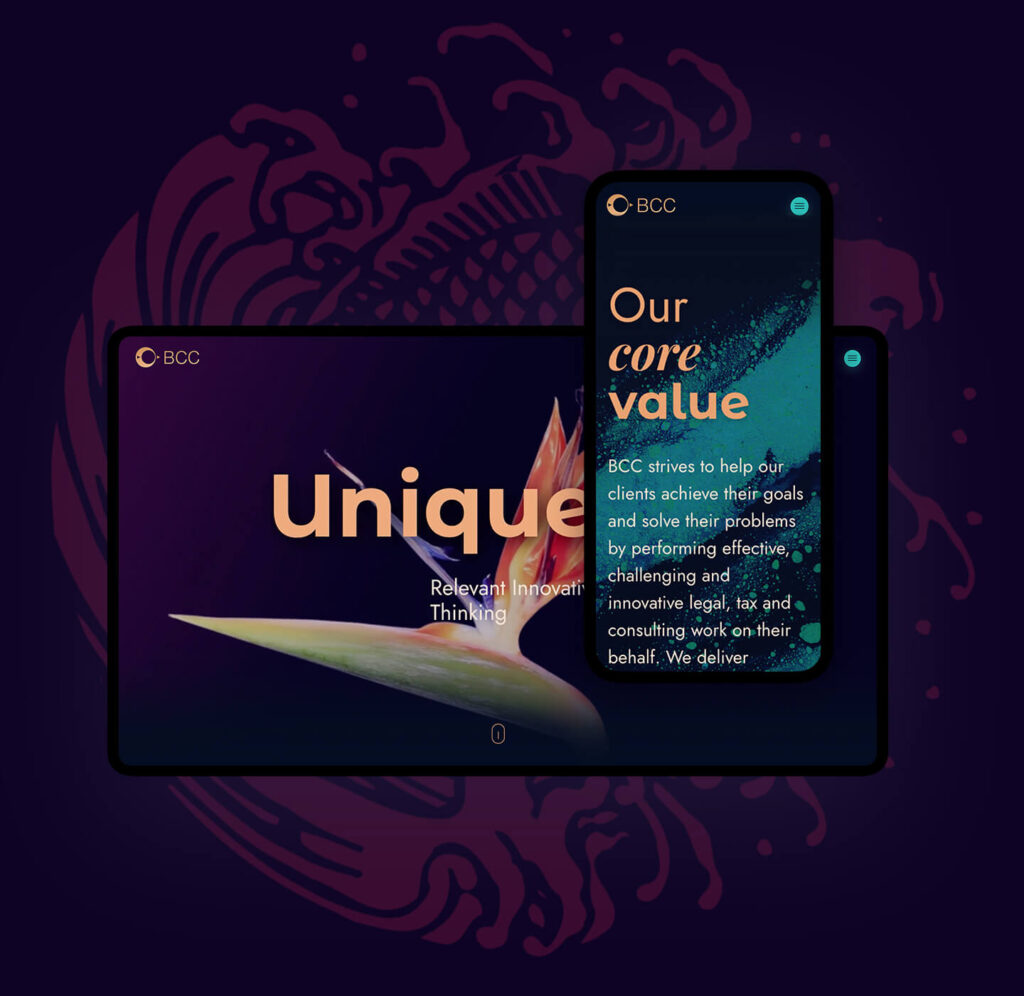 About the client
Theodora Ivanova & Partners is a premier boutique law firm established in 2007, dedicated to providing exceptional and sophisticated legal services to their clients.
With a team of highly experienced attorneys, they are committed to delivering the highest level of legal expertise and client service.
Project
Details
Services provided
UX/UI design
Web design
Website development
WordPress development
Project management
Web hosting & website support
The Project
This law firm faced the challenge of an outdated website that didn't showcase their exceptional solutions and bespoke legal and accounting services.
We designed a visually captivating website that sets them apart from others in the industry. Incorporating elements from their physical office, we established a unique look and feel, including a custom-made video and carefully designed typography and visuals.
The redesign resulted in a functional and contemporary website that effectively highlights the company's core values, improving the content creation process and employee representation.
It now accurately reflects their services, quality, and owners' personal attitude, encouraging further engagement.
The path to achieving
brand excellence
Our focus was to ensure that the website was easily navigable, fast-loading, and provided clear information to users.
The challenge
The company had an outdated website that didn't meet current user expectations and failed to effectively showcase their core offerings of extraordinary solutions and bespoke legal and accounting services with 100% quality.
Vibrant Graphic Design
We created graphics using interlocking circles, taking inspiration from the BCC's logo icon. The design incorporated a vibrant colour palette and strong contrast to create a visually striking experience.
Content Depth and Dynamics
To add depth and dynamism to the content, we experimented with alignments and directions, using layering, overlapping, and different dimensions of visual presence. This created an engaging and dynamic user experience.
Breaking the rules
For this project, we adopted an approach that broke the traditional rules of web design. We used three contrasting font families in a specific combination, along with a strong contrast in font size. This combination increases the dynamic flow of the pages and brings a sense of variety and diversity to all aspects of the user's web experience.
Immersive Scrolling Experience
The seamless flow of the pages creates a sense of depth and immersion in the user experience. We chose to use velvet colours and subtle gradients, allowing the user to scroll down uninterrupted, creating a feeling of infinity.
Don't settle for an outdated or underperforming website!
Let us help you create a visually stunning and user-friendly website that effectively represents your brand and drives conversions.