HRC Culinary Academy: Clean Web Design
The HRC Culinary Academy was looking for a modern and fresh approach to designing and building their marketing website. Our team went to work and created a website that is clean, user-friendly, and packed with information on the HRC Culinary Academy.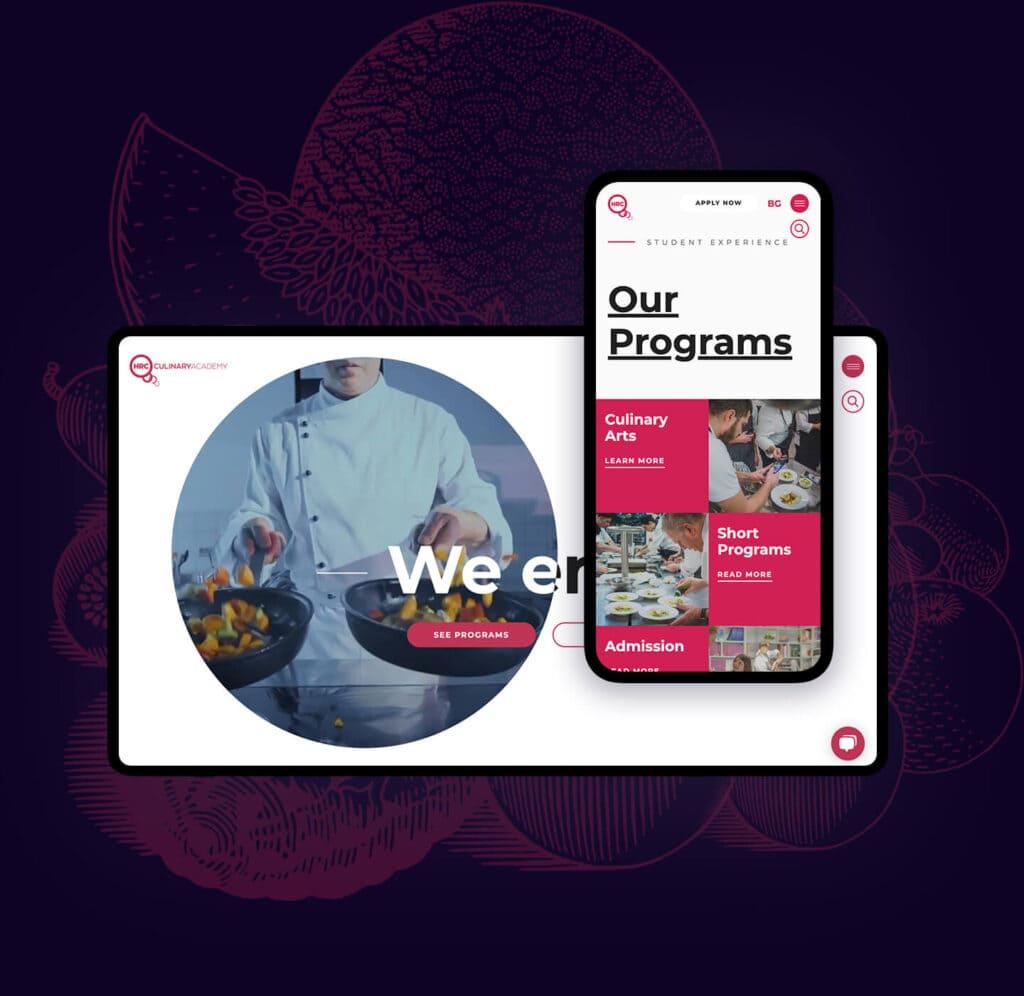 HRC Culinary Academy
HRC Culinary Academy is the premier culinary school in Eastern Europe.
The dynamic 2-year program in Culinary Arts of HRC Culinary Academy is developed by educational and industry leaders to combine extensive hands-on training with upper class practice at fine restaurants and well known hotels and resorts.
The Academy needed a new website that would help visitors learn more about the organisation, and we came up with the perfect solution.
We designed a modern website with animation-intensive design approach that visitors can enjoy while learning more about the Academy.
The website is packed with information, and we reorganised it in a way that students and visitors can better digest.
Project
Details
Services provided
Digital strategy
CMS
Project management
Google Ads
Facebook Ads
The Project
HRC Culinary Academy came to us looking for a complete redesign of their website. They wanted a design that was modern and interactive so that visitors could enjoy the experience while learning more about the Academy.
HRC had a lot of content that needed to be reorganised in a way that students and visitors could better understand and digest.
In order to manage the content effectively, we focused on approximately 15 different templates which we broke down further into reusable components.
This allowed us to efficiently manage the content while ensuring a consistent look and feel across all pages.
We also handled the challenge of integrating a heavy HubSpot form without making it too difficult for users to fill it out.
Additionally we optimised and managed their Adwords PPC campaigns.
Client
Testimonial
They have become an invaluable partner to us! Great communication, prompt responsiveness, and dedication to understanding our needs. They manage our digital campaigns and helped us boost our online visibility, engagement, and conversions. We wholeheartedly recommend their services to anyone seeking top-notch digital marketing and website development expertise.
HRC Culinary Academy
The journey to
website success
The challenge
There was a lot of content on the HRC Culinary Academy previous website, and that needed to be reorganised in a way that students and visitors could better understand and digest.
Mobile first
As more and more people are using their phones as their primary internet source, it was essential that the HRC website had a good mobile UX. Our priority was to make the website easily accessible, quick, and clear.
WordPress development
The development team implemented the sections into a WordPress theme, giving the client the ability to build an unlimited number of pages while maintaining the style developed by the team. This provided the client with complete freedom to manage all their content without risk of breaking the theme's style.
Streamlined site design
The new site layout is designed to do just that – provide a more intuitive and engaging experience for users.
Flexible content
To manage content effectively, we focused on approximately 15 different templates and broke them down into reusable components.
HubSpot integration
We created a custom form with multiple steps to break down HubSpot form fields into logical groups. This optimisation improved the user experience.
The integration of HubSpot has also assisted the HRC team in maximising their efficiency with managing new applicants.
The work we did resulted in a higher conversion rate on the application form, which was their primary objective.
Additionally, analytics showed that users spent more time on the website compared to the previous version. Overall, the project was a confirmed success for the HRC business.
Looking for a digital marketing strategy that generates more leads and revenue for your business?
Look no further! We're excited to offer our services and help you get started on your journey to success.