HRC Culinary Academy
Case Study
HRC Culinary Academy was looking for a modern and fresh approach to designing and building their marketing website. It had to be a '2020-style' as they said.
Our work resulted in a much higher conversion rate on the application form, which was their primary objective. Analytics also showed that users spent much more time on the website compared to the previous version. Overall it was a confirmed boost for the HRC business.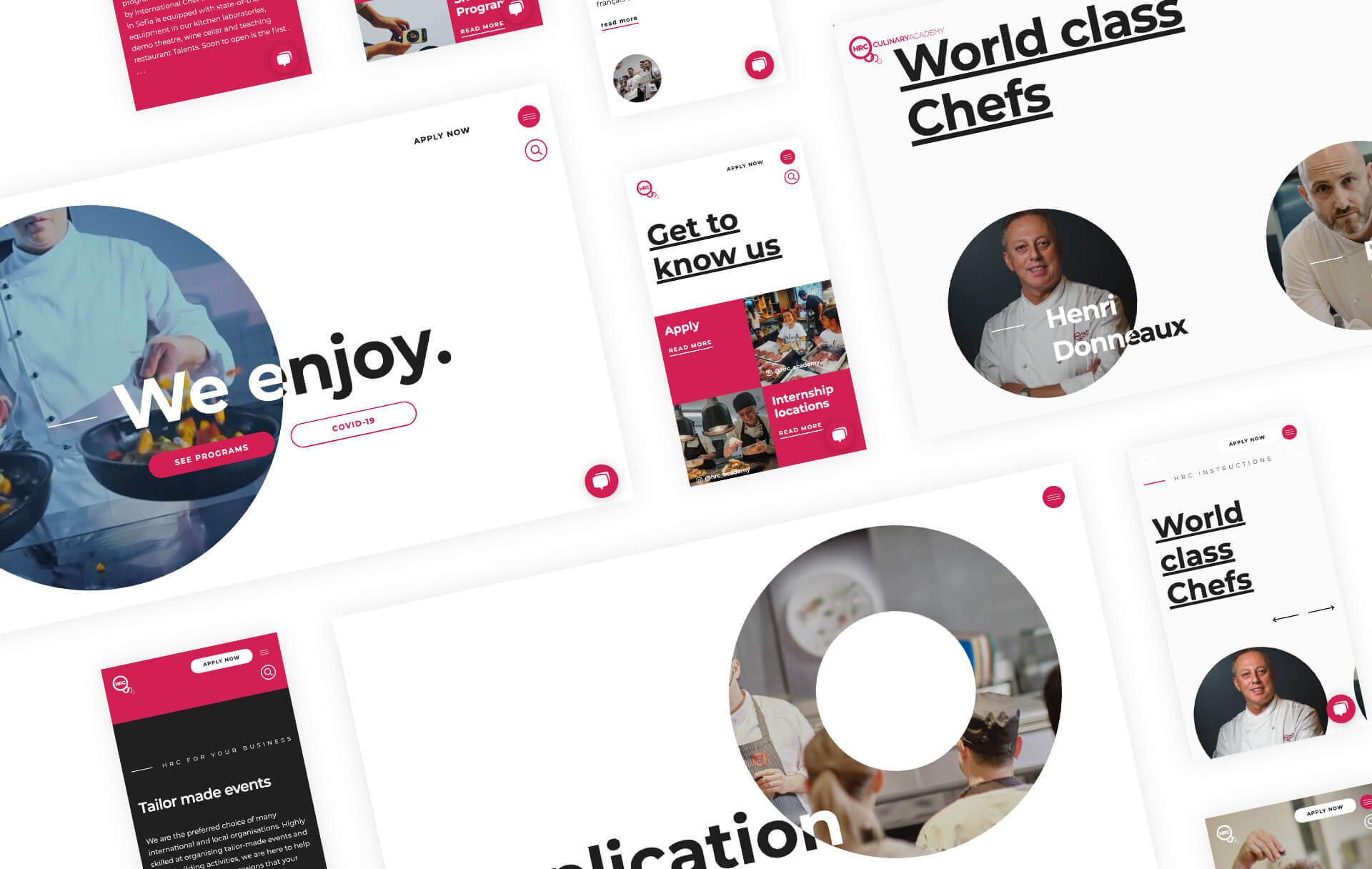 HRC Culinary Academy
HRC Culinary Academy is the premier culinary school in Eastern Europe.
The dynamic 2-year program in Culinary Arts of HRC Culinary Academy is developed by educational and industry leaders to combine extensive hands-on training with upper class practice at fine restaurants and well known hotels and resorts.
Digital strategy
Brand refresh
UX/UI
Web design
Website development
Quality assurance
WordPress development
HubSpot CRM integration
PPC campaigns
Project management
We came up with a modern, animation-intensive design approach to make visitors enjoy the experience while learning more about the Academy. HRC had loads of content, and it had to be re-organised in a way that students and visitors could digest better.
To cope with the content challenge, we isolated around 15 content types which we further developed and designed as independent website sections. Our development team then implemented them into a powerful WordPress theme. The client could now build as many pages they wanted using any of those sections. They had the complete freedom of managing all their content without risking to break the style we developed.
We've also handled the challenge of integrating a heavy HubSpot form without making it hard for users to fill it.
We developed a custom multi-step form, breaking down all the HubSpot form fields into logical groups and optimising the user experience. Integrating HubSpot also helped the HRC team to maximise significantly with managing new applicants.
Additionally we optimized and managed their Adwords PPC campaigns.
We get more applicants because of the easy process of filling out the form. We notice that people spend more time reading on content that they couldn't find before, and overall we have way more possibilities for conversion and future automatisation of the entire promotional/sales funnel.
VP of Marketing
HRC Culinary Academy
Looking for a digital marketing strategy that generates more leads and revenue for your business?