Top 3 SEO Tactics For Your Small Business SEO Success (+Extra Tips)
Table of contents:
Why is SEO important for Small Businesses?
If you want your potential customers to find you through search engines, you need to rank highly on them. In particular, you should aim to be on the first page of results, and ideally in the top few results. This is accomplished through optimising your content for search engines, which is referred to as "search engine optimisation".
As a small business or solopreneur, it can be difficult to identify and implement all of the correct optimisation tactics. This is where a small business SEO service can be extremely beneficial. SEO can produce strong and sustained results, but only if it is done correctly. A professional SEO agency will have the knowledge and expertise to ensure that your website is optimised for maximum visibility and traffic.
Top 3 Small Business SEO Tactics in 2022
There are many SEO tactics that small businesses can use to improve their online visibility, including optimising their website for search engines, using relevant keywords in their website content, and building backlinks to their website from high-quality websites.
In a recent survey to small business owners, Visual Objects found that small businesses prioritise the following 3 SEO tactics:
Keyword research (43%)
Technical SEO optimisation (40%)
Local search optimisation (37%)
In this post, we'll analyse these tactics and we'll add a few additional small business SEO tactics that can be easily implemented to improve your online visibility and ranking.
Keyword research
What is keyword research and why is it important?
Keyword research is a widely used strategy that involves finding and analysing terms that people enter into search engines when looking for information. The goal of keyword research is to identify popular keywords that can be used to generate traffic to a website.
By using the keywords, phrases, and language that your audience does, you can optimise your content and reach potential clients or customers by adapting to how they search.
What are some common mistakes to avoid when doing keyword research?
When doing keyword research, some common mistakes to avoid include forgetting to check search engine trends, using only one keyword research tool, not researching competitor keywords and not assessing keyword difficulty.
You can use Google Trends to see if there is a recent uptick or decline in searches for your keyword.
Full keyword research can be completed by SEO teams through tools like Ubersuggest, Ahrefs, Moz, and Google Keyword Planner. These tools can help teams to find the keyword difficulty, search volume, and relevant questions associated with each option. Additionally, businesses can use these tools to see where their competitors are ranking for certain keywords.
What are some of the best methods for conducting keyword research?
Below is a suggested process for conducting keyword research to generate a list of targeted terms for your business. By following this process, you will be able to create and execute a strong keyword strategy that helps you improve your visibility for the search terms that matter most to you.
1. Generate a list of topics relevant to your business based on your current understanding
Start by brainstorming a list of words and phrases that are relevant to your business and that potential customers might use when searching for your products or services.
What do you offer that is unique? What are the benefits of your products and services? Consider your location. If you are a small business in a specific city or town, include that in your keywords. For example, "attorney in Atlanta" or "hair salon in NYC."
2. Generate keyword ideas from your main topics
You can generate keyword ideas for your main topics using Google's Keyword Planner. Simply enter your main topic into the Keyword Planner, and you'll get a list of related keywords and phrases, as well as data on monthly search volume and competition level. Additionally, you can refine your list by adding a targetter location to find popular local keywords.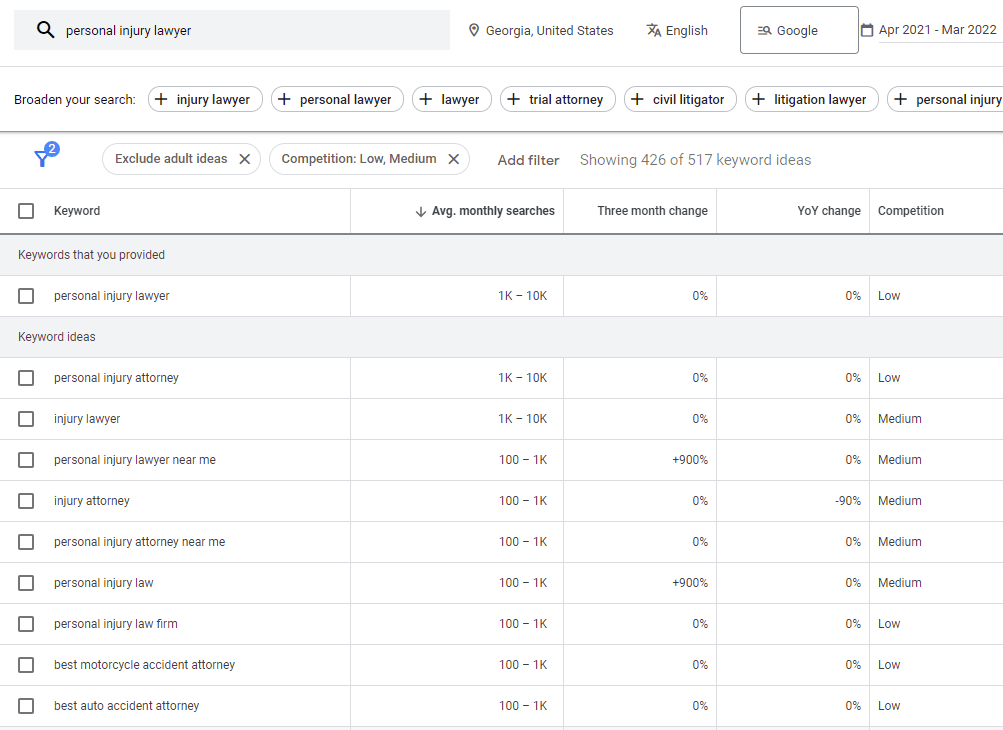 Pick the relevant keyword ideas with moderate competition and add them to each of the main topics list you created in the previous step.
3. Use Google autocomplete and related searches to find long tail keywords
To obtain additional keyword ideas, you can go to Google and paste keywords from Google Keyword Planner, then select relevant suggestions from the results. Add them to your list.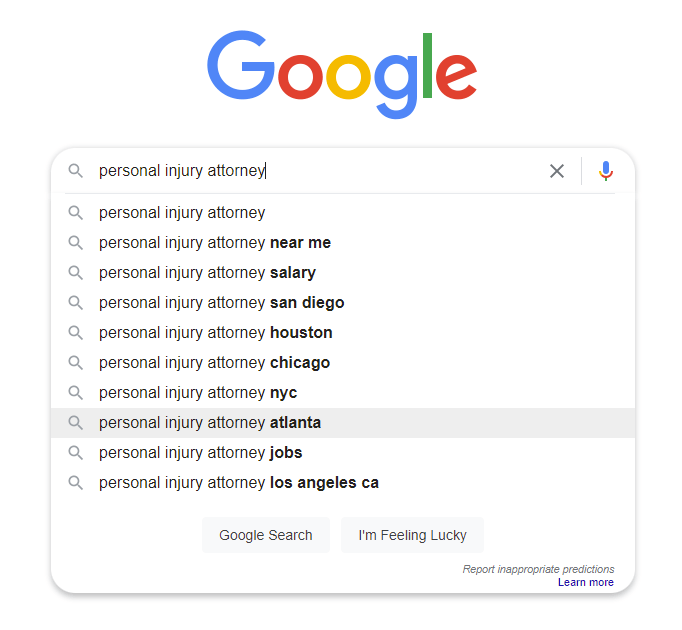 Click on some of the suggested keywords and scroll down to related searches, where you can find additional keywords to consider.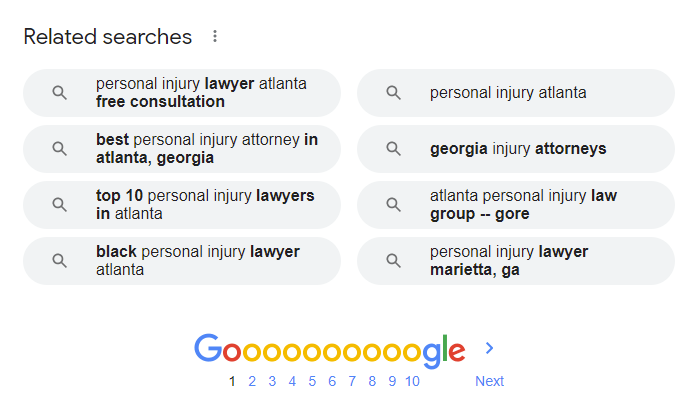 Repeat this process to find additional long tail keywords by clicking on these results.
As you find new relevant keywords, continue adding them to your main topics, or create new topics as needed.
4. Find the questions people are asking
Researching the questions your audience is asking can be useful for coming up with content ideas. Free keyword research tools like Answer The Public can be helpful for this purpose.
5. Find the keywords you are ranking for
To see what keywords you are ranking for, head to Google Search Console. This is a free tool that allows you to see how your site is performing in Google search results. You can use it to see what keywords you are ranking for and to get insights into how your site is being found by users.
You can find additional keywords for your website using tools such as Ubbersuggest, Moz or Google Keyword Planner. For example, Moz Keyword Explorer can be used to obtain keywords that your website ranks for.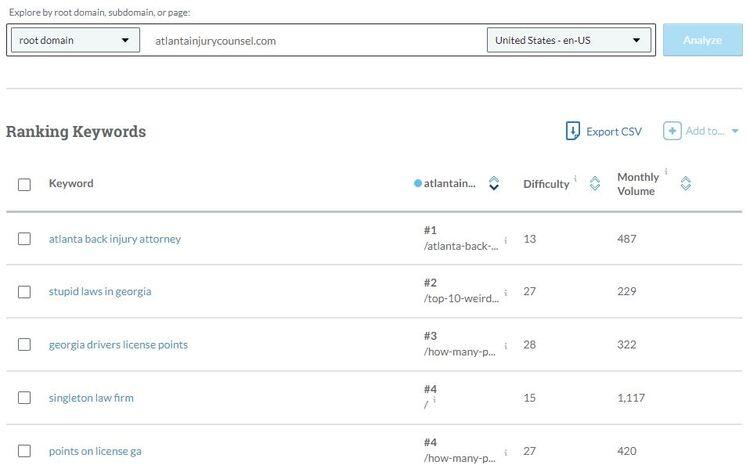 6. Find the keywords your competitors are ranking for
To find your competitor's most valuable keywords, follow the same process you used to analyse your website's keywords. Use a tool like Ahrefs, Ubersuggest, Moz, or Semrush to find the keywords that are bringing the most traffic to your competitor's site.
Grab the non branded keywords that have a good search volume and low/medium competition and add them to your list.
If you don't have an idea of who your competitors are, use tools like Moz Competitive Research to find websites that are competing with yours for the same SERPs.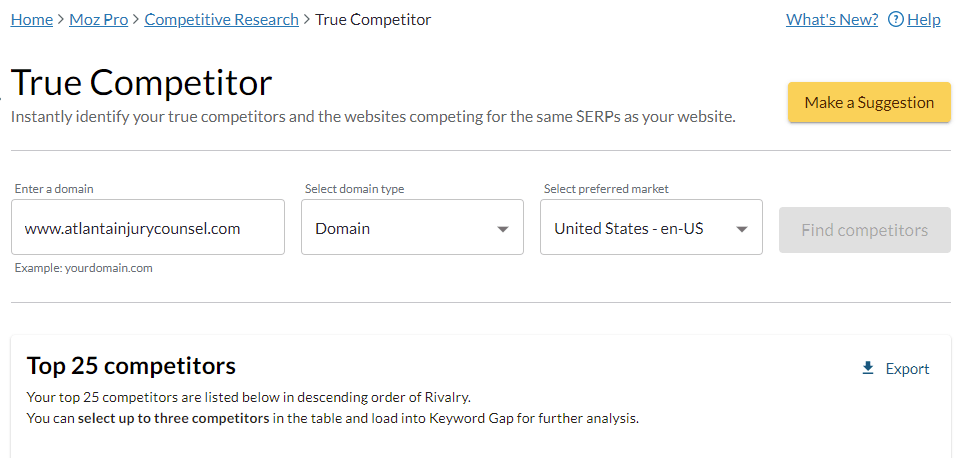 The right keywords for your Small Business SEO
There is no one-size-fits-all solution when it comes to keywords. The best keywords for your small business will be those that are highly searched by your target audience.
You can start by refining your previously created list of topics and relevant keywords. You can do this by using Google keyword planner to analyse the volume and competition for each set of keywords.
Once you have your final set of keywords, tools such as Ubersuggest or Ahrefs can help you track your keywords and see how they are ranking. These tools can give you insights into your keyword performance, helping you to improve your SEO efforts.
Now you need to develop a strategic plan that will help you rank pages and drive traffic.
In order to ensure that your website is optimally structured for the keywords you wish to rank for, it is important to map out a site structure that incorporates these terms. This will help to ensure that your website has the relevant content needed to target these terms effectively.
Don't overuse keywords on your website
Using too many keywords on your website can actually hurt your ranking with search engines. Stick to a couple of relevant keywords for each page to avoid overstuffing.
Technical SEO optimisation

What is technical SEO, and why is it important for small businesses with an online presence?
Technical SEO is the process of optimising a website for Google's algorithm. It's important because it helps Google and other search engines understand your website and index it correctly. Additionally, technical SEO can help improve your website's click-through rate and organic search traffic.
Technical SEO includes optimising website architecture, code, site speed, mobile responsiveness, and more.
What are some common tools that small businesses can use for technical SEO?
Tools like Screaming Frog and Google Search Console can assist you with your technical SEO optimisation efforts. Ahrefs, Semrush and Ubersuggest can also be used to run technical audits and identify issues.
What are some common technical SEO issues that can impact a website's ranking in search engine results?
Some common technical SEO issues that can impact a website's ranking in search engine results include:
Poor website's loading speed
One of the most important aspects of technical SEO is website speed. A slow website can severely hurt your chances of ranking in Google, as well as frustrate your users.
To analyse the performance of your website you can run a Pingdom Website Speed Test or use Google Page Speed.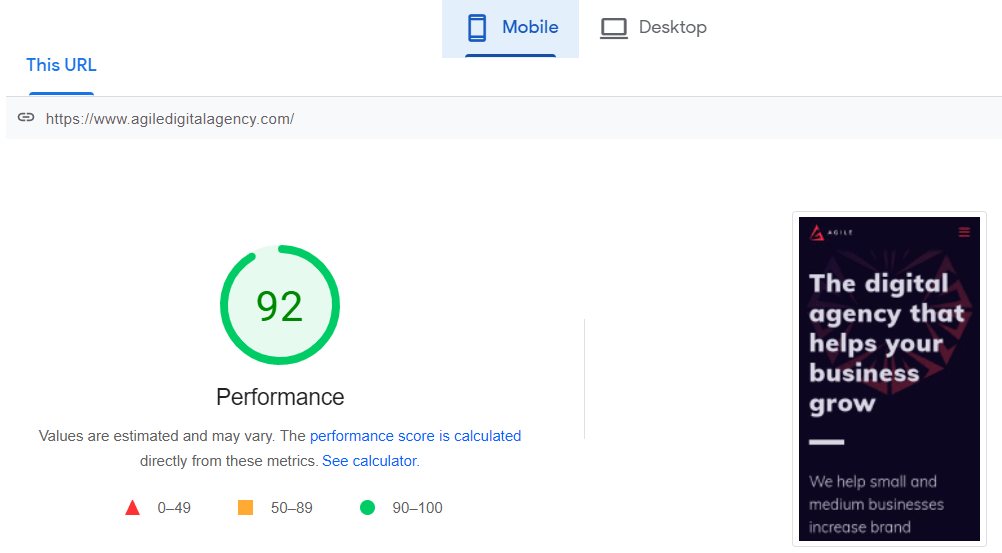 These tools will provide you with reports about areas where you can improve your web performance.
Images can slow down a website if they are not sized properly. When creating images for your website, be sure to compress them and use an optimised format that will result in a smaller file size. For example, JPEG is usually smaller than PNG.
If you have a WordPress website, you will want to make sure that you are always running the latest version. WordPress is constantly adding new features and improving security, so it is important to keep your site up-to-date. You can easily update your WordPress site yourself, or you can hire a WordPress developer to do it for you.
Poor mobile experience
Poor mobile experiences can be caused by a number of technical SEO issues, such as pages that are not optimised for mobile devices or that are slow to load.
With the increasing number of people using mobile devices to access the internet, it's important to make sure your website is designed to be mobile-friendly.
The Mobile-Friendly Test from Google can help to find out if your web page is mobile friendly.

Content duplication
This can occur when the same content is published on multiple URLs, or when there are multiple pieces of very similar content on a single website. Content duplication can be a major problem because it can confuse search engines, and it can result in lower search engine rankings. In severe cases, it can even get your website banned from Google. If you suspect that there might be content duplication on your website, the best thing to do is to run a site audit and look for any duplicate content. Once you've found the duplicate content, you'll need to change it or remove it.
Broken links
If a search engine crawler comes across a broken link, it will stop crawling that page and any pages after it. This can limit the number of pages the search engine indexes, which in turn can hurt your website's ranking.
It's important to make sure that all of the links on your site are working properly. There are a few ways to check for broken links, such as using a website crawler like Screaming Frog.
Xenu is a free tool that can help you identify broken links on your website.
Server errors
If your website is returning a server error, it is essentially telling search engines that it is unavailable. This can have a negative impact on your website's ranking and visibility. There are a few different types of server errors, but the most common is a 404 error, which means that the page you are trying to access cannot be found. Other common errors include 500 internal server errors and 502 bad gateway errors. If you are experiencing any of these errors, it is important to fix them as soon as possible to avoid any negative impact on your website.
How can small businesses ensure their website is technically optimised for SEO?
There are a number of things that you can do to ensure that your website is technically optimised for SEO:
Review your website structure
The website's structure is important because it determines how easily users can find the information they need. A well-structured small businesss SEO optimised website will have a logical navigation system that is easy to understand. The website's hierarchy should be clear, and each page should be easy to find.
Make your site accessible to search engines
Make sure your website is accessible to search engines by using the correct robots.txt file and sitemap.xml. Sitemaps can help users and search engine spiders find and navigate your website more easily. The robots.txt file can help you exclude parts of your site from being crawled with the disallow command.
Fix broken links
Ensure that your website is free of broken links and errors by using Google Search Console and other audit tools.
Select adecuate keywords
Use the correct keywords and phrases in your website content and in your website titles and tags.
Remove duplicate content
Review your website for duplicate content and clean it up accordingly.
Responsive website
Make sure your website is responsive and mobile-friendly.
Optimise images
Images are an essential part of any website or blog, but they can also be a major contributor to slow loading times. Optimising images for SEO can help to speed up your website and improve your search engine ranking. Make sure you include relevant keywords in the file name, alt text and title tags of an image, you can increase the chances of your website appearing in the search engine results pages (SERPs).
By following these steps, you will ensure that your small business SEO work is optimised and ready to attract more visitors.
HubSpot Website Grader is a free online tool that grades your site against key metrics like performance, mobile readiness, SEO, and security.
Bing Free SiteScan tool helps you analyse your website for common technical SEO issues and fix them to improve your performance on Bing.
Local search optimisation
Local SEO is the practice of optimising a website to rank higher for location-specific searches. This can be accomplished through a number of techniques, including optimising website content for relevant keywords, building location-specific citations, and creating location-specific social media profiles. By taking these steps, you can ensure that your website appears in search results when potential customers in your service area are looking for your products or services.
Why local SEO is important for a Small Business
For a small business, local SEO is important for a number of reasons:
It helps to ensure that your business is visible to potential customers in your local area.
It can help to improve your search engine rankings for relevant local keywords, making it more likely that customers will find your business when they are searching for the products or services you offer.
Finally, local SEO can help to build trust and credibility with potential customers, as they are more likely to trust a business that is visible in their local search results.
Local SEO tools and strategies for small businesses
There are a number of local SEO tools and strategies that small businesses can use to improve their visibility online. One of the most effective is to claim and optimise their Google My Business listing. This can help them show up in relevant local searches and provides them with a platform to share important information about their business, such as their hours of operation and contact information. Other strategies include building local citations and creating content that is optimised for local keywords. By using these tools and strategies, small businesses can improve their chances of being found by potential customers online.
Google My Business (GMB)
Google My Business (Now Google Business Profile Manager), is a free tool that allows businesses to manage their online presence across Google. This includes Search and Maps. Google Business Profile Manager is important because it allows businesses to control their information and how they appear to potential customers. It also allows businesses to interact with customers and get insights into how customers are finding and using their business.
If your business does not have a Google Business Profile Manager profile, it is time to create one and get it verified. Once you've created your profile, be sure to populate it with accurate and up-to-date information about your business, including your hours of operation, contact information, and location.
Google Business Profile Manager is a great platform to get reviews from customers, but you may be wondering how to actually get them. Here are a few tips:
Encourage customers to leave a review when they're happy with their purchase. You can do this by asking them in person, or including a note in their purchase receipt.
Include links to your Google business listing on your website and in your email signature.
Generate a QR code from your GMB review link and print it so your customers can easily scan it and leave a review.
Get involved in the review process yourself. Respond to both positive and negative reviews.
Bing Places for Business
Bing Places for Business is a free tool that lets you control how your business appears on Bing Maps and Bing search.
Bing is known as the second largest search engine, but it actually powers many other search engines, such as Yahoo!, AOL Search, DuckDuckGo, Amazon Alexa, Cortana, Xbox, Windows 10, and Ecosia. That said, when most people think of search engines, they think of Google. And while Google is the leader in web search, Bing actually isn't that far behind.
Citations management
One of the most important things you can do is to ensure you have accurate and up-to-date citations on all the major local directories. Inaccurate citations can lead to potential customers being unable to find your business, or worse, finding your competitor instead. So it's essential that you take the time to create or claim your listings on all the major directories, and then keep your information up to date. If you're not sure where to start, scan your business to find online listings with Yell Connect or Moz Local.
Extra SEO tips for Small Businesses
Social shares
One way that small businesses can benefit from SEO is by increasing their social shares. When your content is shared on social media, it can reach a larger audience and help build your brand. In addition, social shares can also help improve your search engine rankings.
Promote your content on social media
Platforms like Twitter and LinkedIn offer great opportunities to share your content with a wider audience, and doing so can help you attract more visitors to your site. Just be sure to post interesting and relevant content that will resonate with your followers, and you'll soon see your traffic start to increase.
Scheduling your posts ahead of time can be a lifesaver, especially if you are managing multiple social media accounts. By using a tool like Hootsuite, you can easily schedule your posts and relax knowing that your content is taken care of.
Make it easier for your users to share your content
Make it easier for your users to share your content by adding social media buttons to your website or blog. This will allow your visitors to share your content with their friends and followers with just a few clicks. Adding social media buttons is a simple way to increase traffic to your site and get your content seen by more people.
ShareThis is a platform that provides a suite of social sharing tools that can be integrated into any site or app, allowing users to share content with their social networks.
Ensure that the content you share on social networks looks great
If you target audience uses LinkedIn, the Post Inspector is a great way to make sure your posts are error-free and look their best before you hit the publish button. So take advantage of this feature and make your LinkedIn posts shine!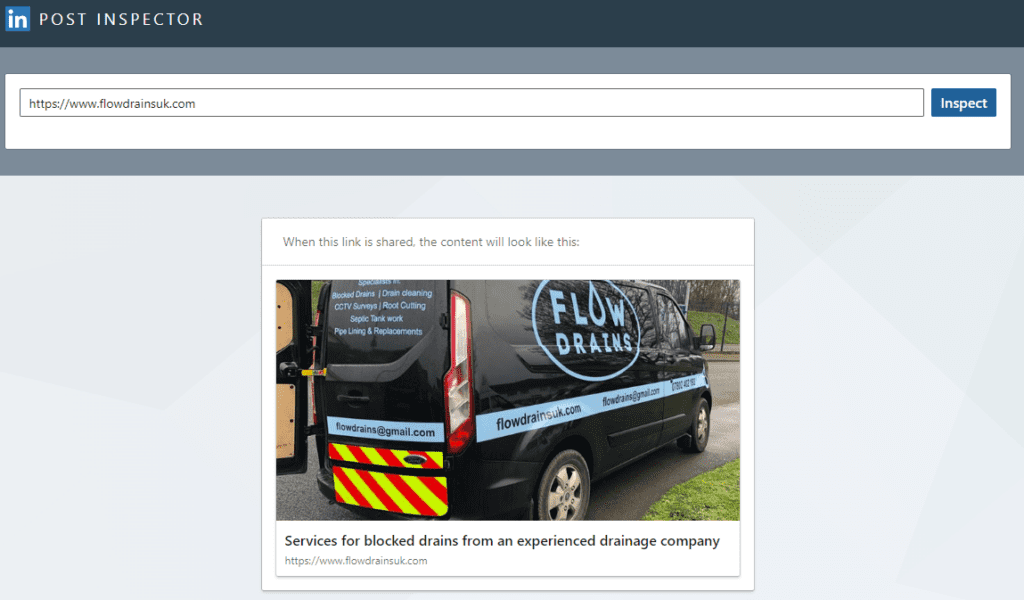 Facebook Sharing Debugger lets you preview how your content will look when it's shared to Facebook and debug any issues with your Open Graph tags.
For Twitter, use the Twitter Card Validator.
User experience
User experience (UX) is critical for small businesses. A positive UX can help increase brand loyalty and customer satisfaction, while a poor UX can drive potential customers away. Creating a great UX starts with understanding your target audience and what they want and need from your website.
Add Microsoft Clarity to your website
Microsoft Clarity is a free tool that provides you with insights on how visitors interact with your website. You will be able to see what visitors are doing on your site, how long they stay on each page, and what kind of devices they are using. This information can help your make improvements to your site that will lead to a better user experience for your visitors.
Add your site to Google and Bing
If you want your website to be visible to potential customers, it's important to make sure it's being indexed by the major search engines. The two most important search engines are Google and Bing, so you'll want to submit your website to both of them. You can do this by going to their respective website submission pages and entering your website's URL. Once your website is indexed, it will start appearing in search engine results pages (SERPs) when people search for relevant keywords. This will help you attract more visitors to your site and potentially increase sales.
If you have a new website, you can submit a sitemap to Google and Bing to help them index your site. A sitemap is a file that contains a list of all the pages on your website. You can create a sitemap using a sitemap generator tool, a WordPress plugin, or you can create one manually. Once you have created your sitemap, you can submit it to Google and Bing.
If you make changes to a page on your site, you can request that Google and Bing re-index your page using the URL inspection tool.

SEO Software Tools for Small Businesses
Small businesses have a big advantage when it comes to SEO. There are a number of software tools available that can help small businesses improve their search engine rankings. Some of these tools are free, while others are paid. Find out more in our previous post: Top SEO tools for small businesses.
Invest in SEO and grow your business
You want to grow your business, and you know that exposure is key. Search Engine Optimisation can help you get the exposure you need to expand your customer base and take your business to the next level. With our affordable SEO packages, you can dominate the search engine results and reach more people who are looking for what you have to offer.
Juan Pineda
Managing Partner at Agile Digital Agency. Juan is an experienced digital professional with more than 20 years of experience in web solutions, digital marketing, and innovation. He holds a degree in Computer Sciences, and has worked internationally for renowned digital agencies. Juan provides clients with his skills and expertise in the digital field to create successful online solutions.