SEO for Singleton Law Firm: 1,600% YoY Growth
Discover how our comprehensive SEO strategies reshaped Singleton Law Firm's digital footprint, propelling them to new heights of online visibility and success in Atlanta.
The project
in a nutshell
The Challenge
When Singleton Law Firm approached us, they were grappling with a damaged website and poor search rankings caused by ineffective practices employed by their previous SEO company.
The Solution
As we took charge of the project, we addressed critical issues such as a negative impact on local SEO, incorrect migration of Google My Business and poor performance.
The Results
With our expertise and comprehensive SEO retainer, Singleton Law experienced an astounding 1,600% year-over-year growth in organic traffic.
Don Singleton Law Firm
Year-over-Year SEO Results
1600

%

ORGANIC TRAFFIC GROWTH
300

%

ORGANIC KEYWORDS GROWTH
211
KEYWORDS RANKING IN THE TOP 10 GOOGLE RESULTS
Client
Testimonial
The site ranks for over 3,300 keywords compared to only 25 when they started.
As per our Google Analytics data, the organic traffic went up 4800% for Jan 2023 vs Jan 2021 and its share of all traffic is close to 90% vs 26% 2 years ago.
Don Singleton - Owner
Singleton Law Firm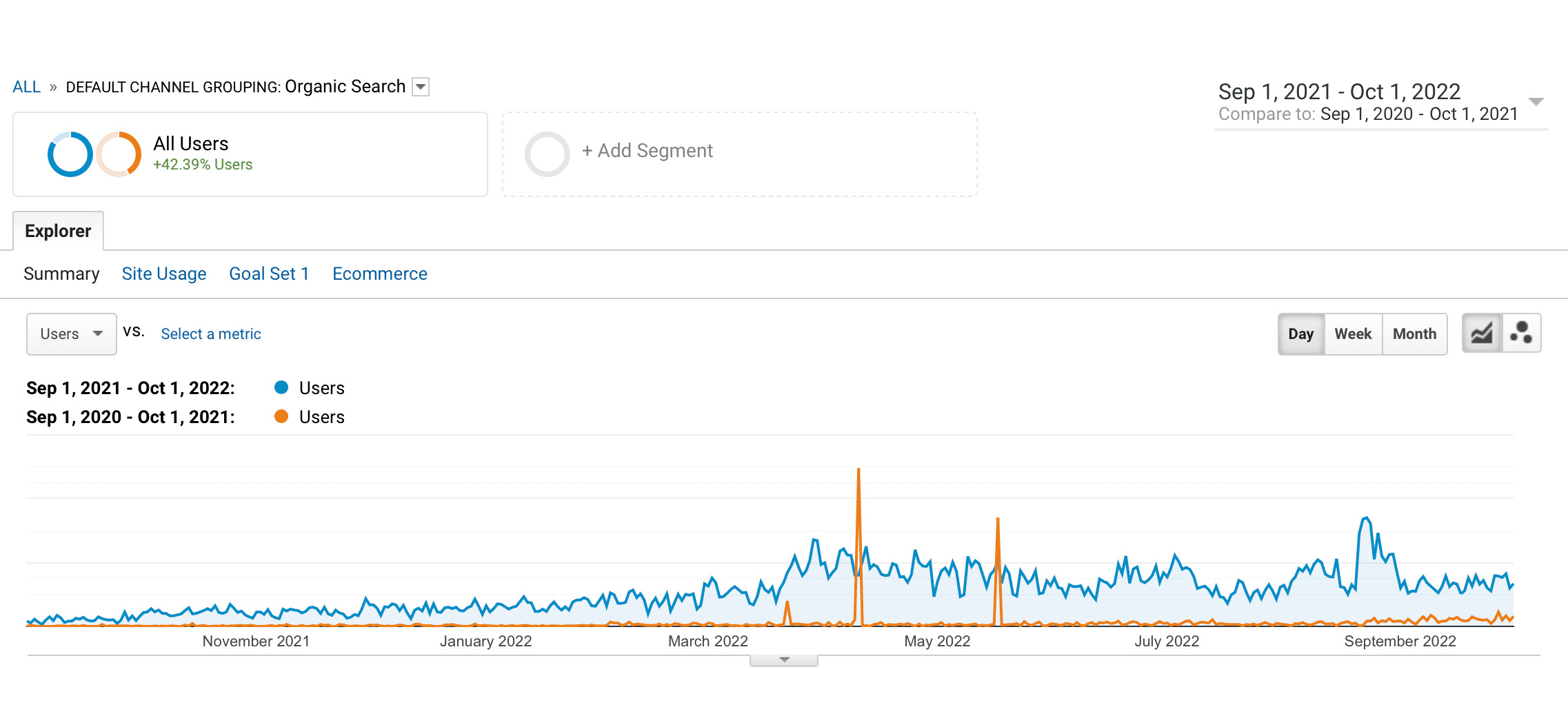 The Project
Scope
Services provided
Citations Cleanup
Link Building
Website Hosting
The SEO Project
Our team was tasked with fixing the damaged website of this law firm whose previous SEO company had employed poor practices, resulting in a lack of online presence and low search rankings.
Immediately after moving the website to our award-winning hosting platform, we addressed issues such as a negative impact on local SEO due to a change in address, the incorrect migration of Google My Business testimonials, poor website performance and design, and lack of mobile optimisation.
Through our efforts, we were able to significantly improve the website's traffic and search engine rankings.
It now receives three times more organic traffic than its main competitor and ranks for over 2,000 keywords.
A Journey Through SEO Implementation:
In the competitive world of personal injury law in the USA, having a strong and well-designed website is essential for attracting and retaining profitable clients. Don Singleton Law knew this, which is why they turned to Agile Digital for their SEO project.
We took the following steps to build a high-quality website, publish relevant content, and implement effective search engine optimisation strategies:
Discovery
When we first began working on this project, we encountered a number of challenges. The website was not generating any traffic and didn't have any keyword ranking on Google.
Redesign
We focused on improving the website's usability, flexibility, and search engine friendliness by implementing a thoughtful redesign. By enhancing the site's loading speed and overall user experience, we elevated Singleton Law's online presence.
Technical SEO
Our dedicated technical SEO team diligently cleaned up duplicate content, optimised the website's architecture, and ensured seamless mobile compatibility. These efforts played a vital role in enhancing the website's overall performance and visibility.
Content creation
A key priority was crafting high-quality content that would attract external websites for valuable backlinks. By curating informative and engaging content for Singleton Law's website, we achieved a significant increase in traffic and user engagement.
Citations cleanup
As Singleton Law Firm underwent a location change, it was crucial to update their NAP (name, address, phone number) data to ensure accuracy across all citations. By initiating a thorough citation clean-up process, we enhanced the firm's local SEO performance and visibility.
Migration
To ensure optimal user experience, we migrated Singleton Law's website to the fastest WordPress servers available.
This move significantly improved website loading speed, resulting in an enhanced browsing experience for all visitors.
Website optimisation
Utilising advanced caching systems, Content Delivery Networks (CDNs), and eliminating JavaScript render-blockers, we addressed performance issues that were negatively impacting the website's ranking. These improvements resulted in a substantial boost to the website's overall performance.
Onsite optimisation
To maximise the website's search engine visibility, we optimised existing pages, meta data, images, and blog posts for SEO purposes. We also introduced fresh content, including images, videos, and infographics, to enrich the website's value and relevance.
Local SEO
To improve Singleton Law's local SEO presence, we reorganised and optimised the website's architecture and fine-tuned their Google Business profile. Collaborating with Google technical support, we successfully transferred the client's testimonials to their new profile.
Link building
Establishing trust and credibility is paramount for law firms. We listed Singleton Law Firm in relevant local and national directories and secured valuable backlinks from reputable websites. These strategic link-building efforts bolstered the website's authority and improved its visibility in search engine results pages.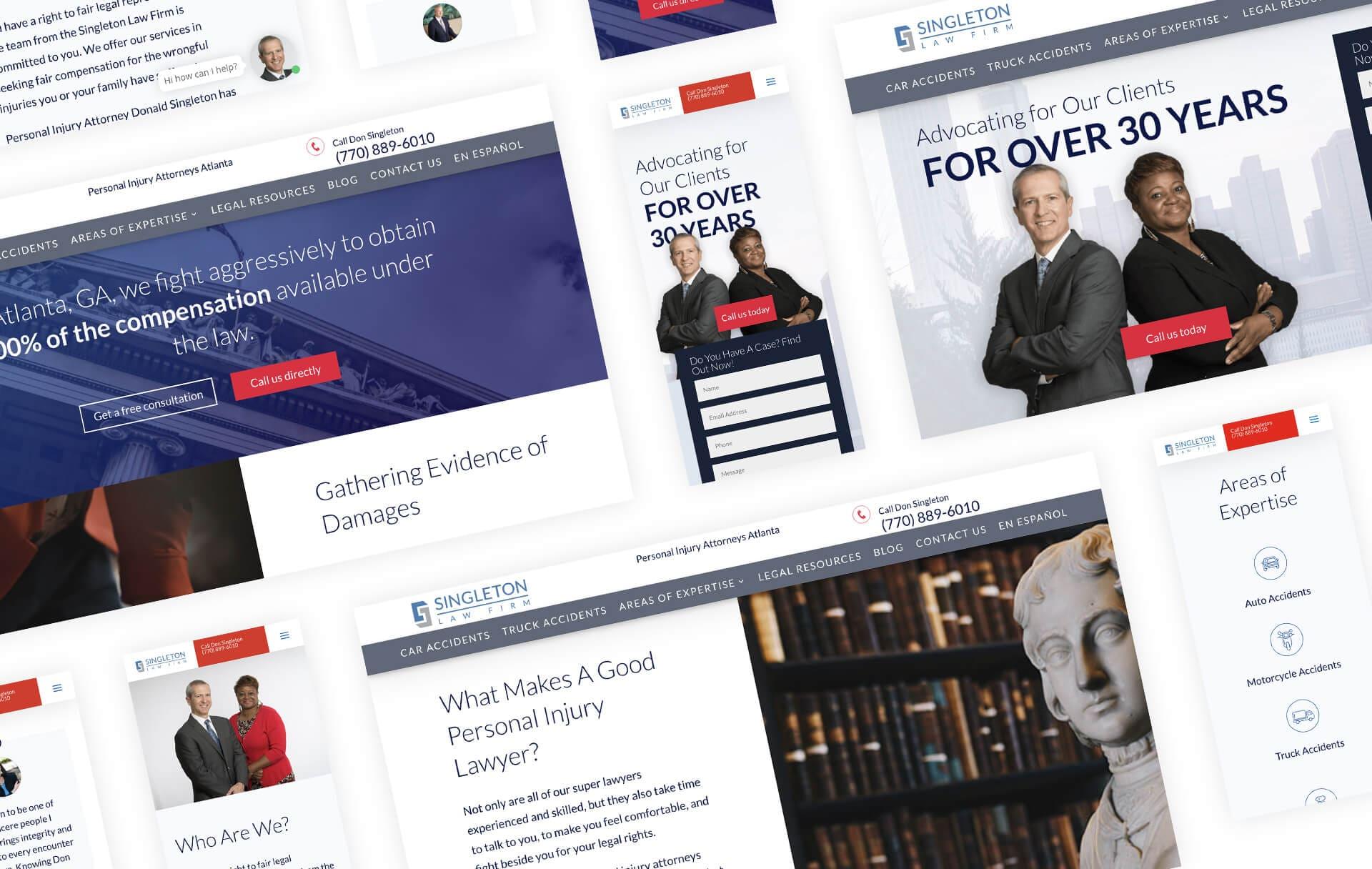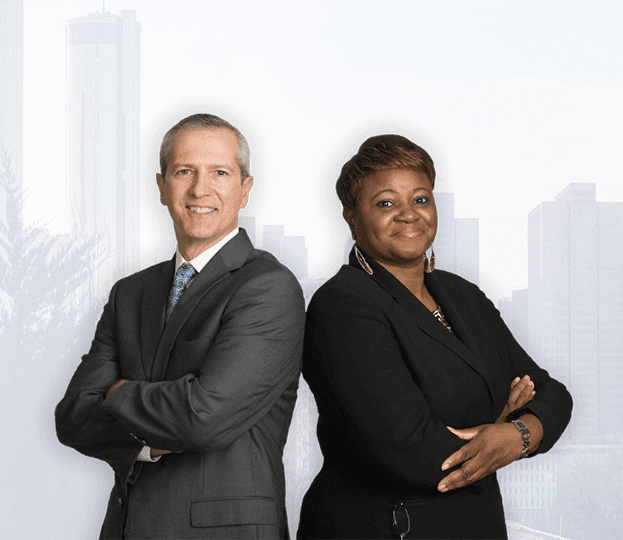 Singleton Law Firm
Singleton Law Firm boasts over 30 years of experience in the legal field and is widely recognised as one of Atlanta's top personal injury law firms.
Renowned as "Personal Injury Trial Lawyers" and honoured as "Super Lawyers" by Georgia Super Lawyers magasine, their practice focuses on securing fair compensation for injury victims and their families affected by the negligence or recklessness of others.
Law Firm SEO
Frequently Asked Questions
What's SEO?

Search Engine Optimisation (SEO) is a process of improving the visibility and traffic to a website by optimising its content, layout, structure, and coding to better align with search engine algorithms. By implementing SEO strategies, a website can increase its ranking in search results and attract more qualified traffic.
How can SEO help my law firm's online presence?

By implementing SEO strategies, a law firm can improve its recognition and ranking in search engine results, leading to an increase in qualified website traffic and potential clients. This can enhance the law firm's online presence and establish trust and credibility with potential clients.
How does SEO differ for law firms compared to other industries?

The specific SEO strategies and tactics used for a law firm may vary based on the target audience and competitive landscape. It may also be necessary to optimise for local search results and legal keywords to effectively reach the desired audience and achieve desired results.
How long does it take to see results from SEO efforts?

It can take some time to see results from SEO efforts, as search engines need time to crawl and index the website's content. The length of time can vary depending on the competitiveness of the industry and the quality of the SEO efforts.

This is what Google says:

Remember that it will take time for you to see results: typically from four months to a year from the time you begin making changes until you start to see the benefits.

https://developers.google.com/search/docs/fundamentals/do-i-need-seo

Google Search Central
What makes you different from Findlaw and other similar firms?

We have come across numerous complaints about certain agencies, such as Findlaw and Scorpion, that engage in unethical practices that harm their clients. These practices include ignoring clients after they sign long-term contracts, forcing clients to purchase their own websites to end a contract, and being secretive about the work being done.

Our agency is committed to providing the highest level of service and support to our clients in order to help them grow their legal firms. We believe in transparency and do not engage in practices that may be detrimental to our clients. Our goal is to assist and empower our clients, not to intimidate or disadvantage them.
Boost your law firm's visibility with our SEO retainers!
Experience explosive growth like Singleton Law Firm - 1,600% YoY increase in organic traffic with our Agile approach and SEO strategies.