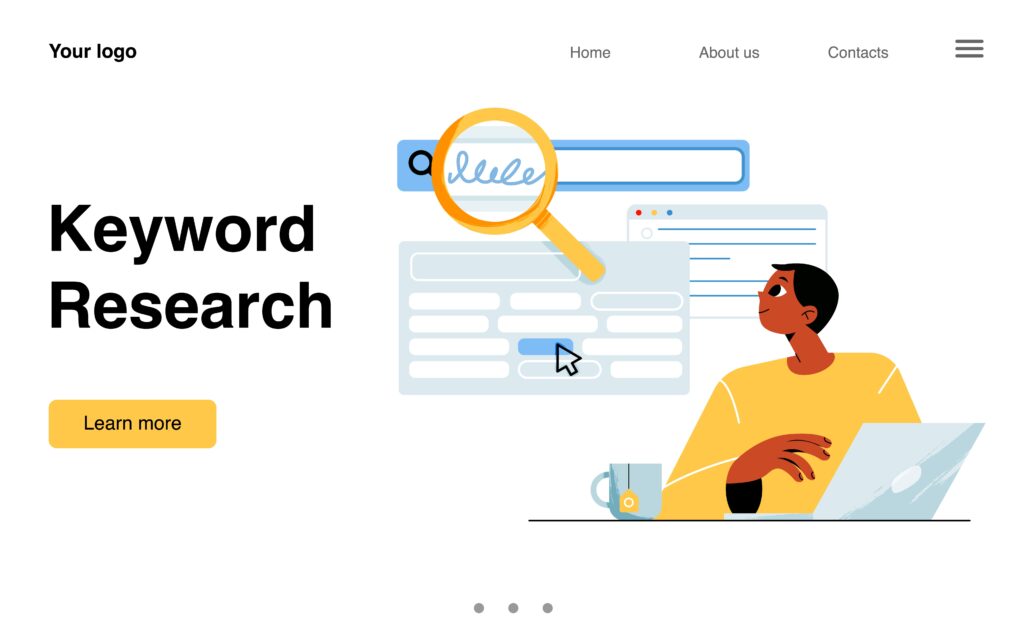 Table of Contents
Understanding Keyword Research and Its Significance
Before delving into the specific SEO tactics, let's grasp the concept of keyword research and why it holds immense importance in your digital marketing endeavours.
Keyword research involves identifying and analysing the terms people use when searching for information on search engines.
By leveraging this knowledge, you can optimise your content to align with how your audience searches, thereby attracting potential customers to your website.
Understanding User Intent and Its Correlation with Keyword Research
User intent refers to the purpose behind a user's search query. It's essential to identify and analyse user intent to deliver relevant and valuable content that addresses the specific needs and expectations of users. By aligning keyword research with user intent, you can attract targeted traffic, enhance user experience, and increase conversion rates.
User intent can be categorised into four main types:
Informational Intent: This type of user intent involves individuals seeking information or answers to their queries. They are looking to understand a topic better or gain insights into a specific subject. For instance, someone searching for "how to perform effective keyword research" is displaying informational intent.
Navigational Intent: Navigational intent occurs when users are looking for a particular website, brand, or online destination. They have a specific destination in mind and are using search engines to find a direct route to it. An example of navigational intent could be someone searching for "Agile Digital Agency" to directly access that agency's website.
Transactional Intent: Users with transactional intent are ready to take a specific action, such as making a purchase, signing up for a service, or downloading a resource. They have a clear intention to complete a transaction online. For instance, a search query like "buy SEO services" demonstrates transactional intent.
Commercial Intent: Commercial intent comes into play when users are in the research phase before making a purchasing decision. They are exploring different options and comparing products or services. An example of commercial intent could be a search for "best SEO tools 2023" to find information about the top tools available for SEO tasks.
To identify user intent and align it with keyword research, consider the following strategies:
Analyse Existing Keywords: Review keywords that are currently driving traffic to your website and assess their alignment with user intent.
Leverage Natural Language: Understand how users phrase their queries and incorporate long-tail keywords that match natural language queries.
Use Searcher Language: Utilise the language and terminology commonly used by your target audience to optimise keyword research.
Avoiding Common Keyword Research Mistakes
To optimise keyword research efforts based on user intent, avoid these common mistakes:
Ignoring User Intent: Focusing solely on high-volume keywords without considering user intent can lead to irrelevant traffic and poor user experience.
Neglecting Long-Tail Keywords: Long-tail keywords often capture user intent more accurately and are valuable for attracting specific audiences.
Overlooking Searcher Behaviour: Keep track of evolving searcher behaviour and adapt your keyword strategy accordingly.
Google Trends is an invaluable tool for tracking whether there have been recent surges or declines in searches for your target keywords. By staying updated with search trends, you can tailor your content to match what users are actively seeking.
To conduct effective keyword research, you can utilise a combination of robust keyword research tools like Ubersuggest, Ahrefs, Moz, and Google Keyword Planner. These tools will help you identify relevant questions, search volume, and keyword difficulty. Furthermore, by examining your competitors' rankings for specific keywords, you can gain valuable insights into how to outperform them in search results.
Proven Method for Conducting Keyword Research
To optimise your website for the most significant search terms and boost your SEO performance, you must adopt an efficient keyword research process. Here is a recommended method to help you achieve precisely that:
1. Compile a List of Relevant Topics Related to Your Business
Create a comprehensive catalogue of words and phrases that are directly relevant to your business. Consider what sets your company apart and how your products or services bring value to your customers. Also, don't forget to incorporate location-specific keywords to attract local customers, such as "best personal injury lawyer in Atlanta" or "hairdresser in Manchester."
2. Generate Keyword Ideas Based on Your Primary Topics
Leverage the powerful Google Keyword Planner to generate keyword ideas related to your primary topics. Enter your primary topic into the Keyword Planner to access a list of relevant keywords and phrases, along with data on monthly search volume and competition. If you aim to target specific regions, you can specify a target location to identify popular local keywords.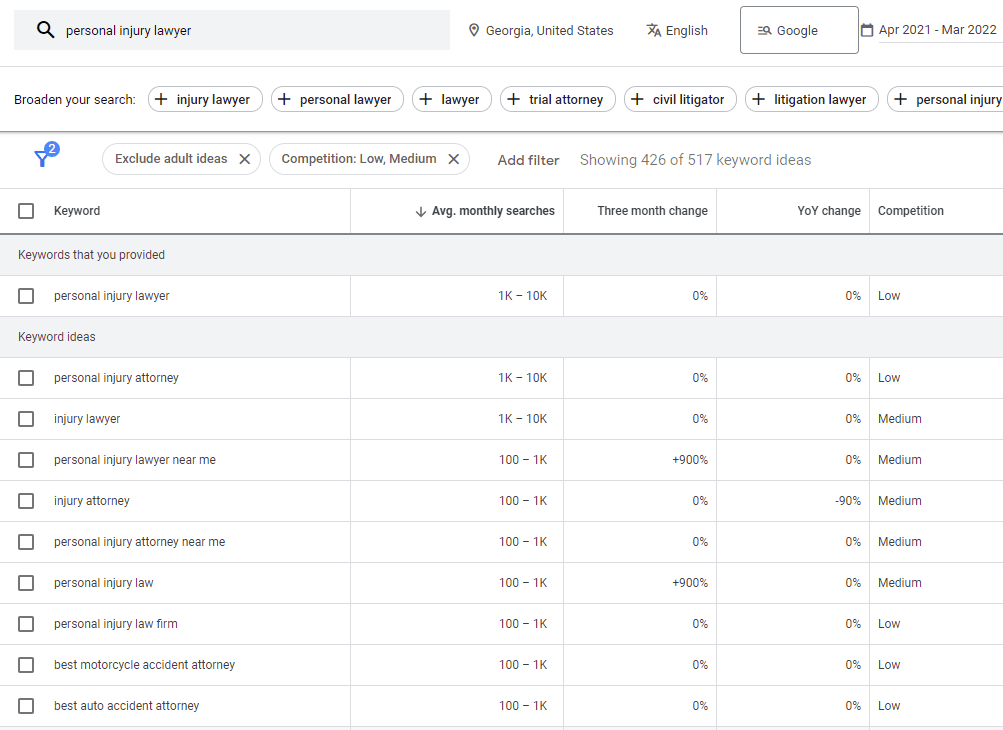 Select a few relevant keywords with moderate competition and add them to your primary topics list.
3. Use Google Autocomplete and Related Searches for Long Tail Keywords
To uncover additional keyword ideas, take the keywords from Google Keyword Planner and input them into Google. Examine the relevant suggestions that appear in the results and include them in your keyword list. This approach can substantially enhance your keyword research and optimise your overall SEO strategy.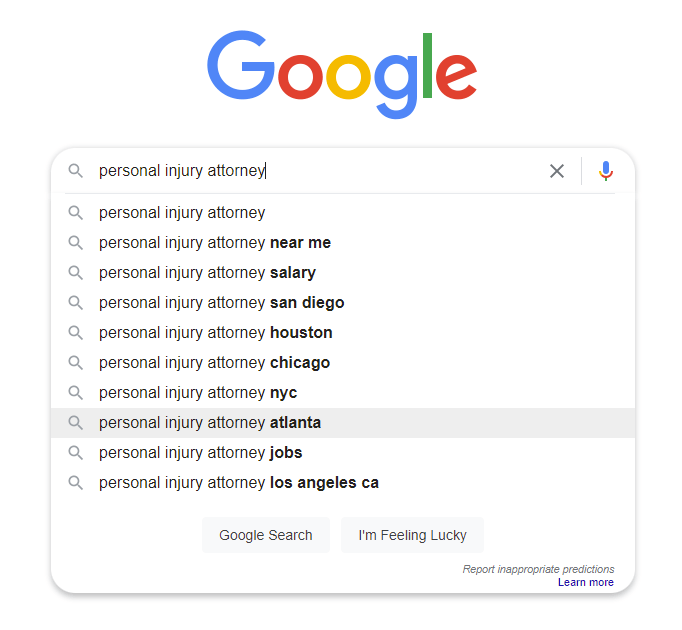 For even more long-tail keywords, click on some of the suggested keywords and scroll down to view related searches. There, you can find additional long-tail keywords to incorporate into your primary topics or generate new topics as needed.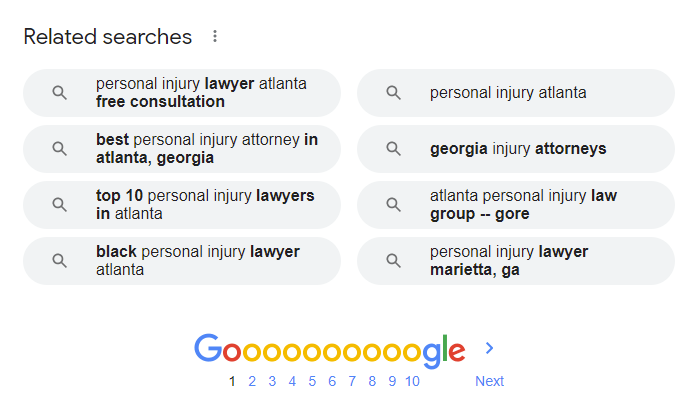 There, you can find additional long-tail keywords. Incorporate new relevant keywords into your main topics as you come across them, or generate new topics as required.
4. Discover the Questions People Are Asking
To find content ideas that resonate with your audience, research the questions they are asking. Utilise free keyword research tools like Answer The Public or Keyworddit to uncover the queries users commonly pose in their searches.
5. Analyse the Keywords You Are Ranking For
To gain insights into your current SEO performance, visit Google Search Console. This tool enables you to discover the keywords you currently rank for and the specific search queries that lead users to your website.
Moreover, keyword research tools such as Ubersuggest, Moz, and Google Keyword Planner can help identify additional keywords that align with your content and target audience. Moz Keyword Explorer, for example, can provide valuable information on the keywords your website is ranking for and help you fine-tune your SEO strategy.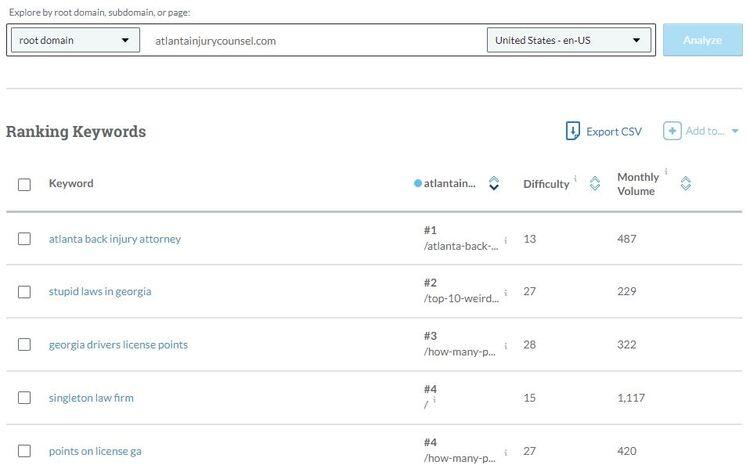 6. Investigate the Keywords Your Competitors Are Ranking For
Similar to analysing your website's keywords, apply the same process to examine the most valuable keywords used by your competitors. Tools such as Ahrefs, Ubersuggest, Moz, or Semrush are exceptionally helpful in identifying the keywords that drive significant traffic to your competitors' websites.
Compile a list of non-branded keywords that have reasonable search volumes and low to medium competition. By using tools like Moz Competitive Research, you can better understand your competitors and identify websites competing with you on the same search engine results pages (SERPs).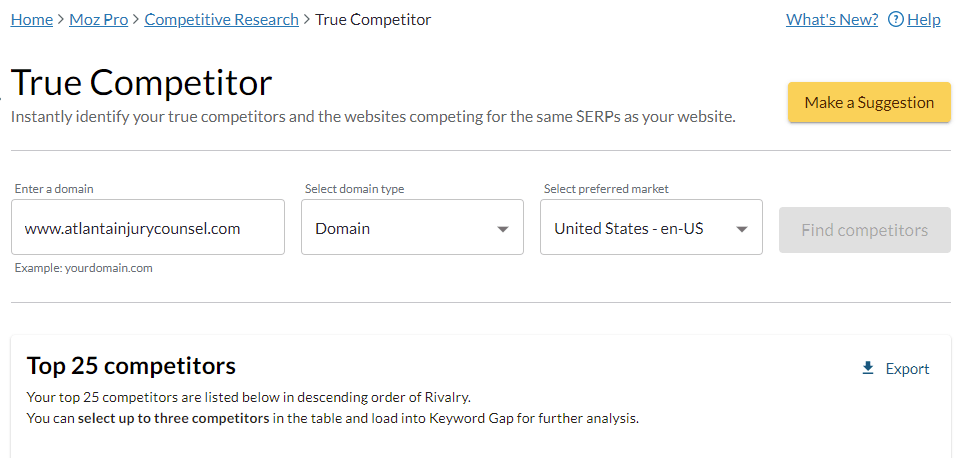 Selecting the Right Keywords for Your Small Business SEO
In the world of SEO, a one-size-fits-all approach rarely produces optimal results. Your small business needs keywords that align precisely with what your target audience is searching for.
Here's how you can identify the right keywords for your SEO success:
1. Refine Your Keyword List
Begin by refining the list of topics and relevant keywords you previously created. Use Google Keyword Planner to analyse the search volume and competition for each set of keywords.
2. Track Keyword Rankings
Tools like Ubersuggest and Ahrefs can be instrumental in tracking the rankings of your selected keywords. These tools provide invaluable insights into the performance of your keywords, enabling you to optimise your SEO strategy accordingly.
3. Create a Keyword-Driven Strategy
With a final set of keywords in hand, create an SEO strategy to rank your pages and drive targeted traffic. Develop a site structure that incorporates the selected keywords and ensures your website is optimised to target these terms effectively.
4. Avoid Keyword Overuse
Overusing keywords on your website can have a detrimental impact on your search engine rankings. To maintain a healthy SEO performance, avoid stuffing each page with excessive keywords.
Conclusion
In conclusion, it is essential to understand the top SEO tactics to drive small business success in 2023. By conducting meticulous keyword research and adopting the strategies mentioned above, you can optimise your content, attract potential customers, and achieve prominent rankings on search engines.
Partner with us today, and, together, we can help you achieve greatness and secure a prominent position at the top of search engine rankings.
Read also: The Top 10 FREE AI Tools to Boost your SEO Efforts in 2023
Juan Pineda
Managing Partner at Agile Digital Agency. Juan is an experienced digital professional with more than 20 years of experience in web solutions, digital marketing, and innovation. He holds a degree in Computer Sciences, and has worked internationally for renowned digital agencies. Juan provides clients with his skills and expertise in the digital field to create successful online solutions.