SEO Ranking & Conversion Boost for Mrs Tilly's
With a goal to enhance its online presence and boost organic traffic, Mrs. Tilly's initially partnered with us to implement strategic website optimisations. Subsequently, they continued to entrust us with ongoing SEO services.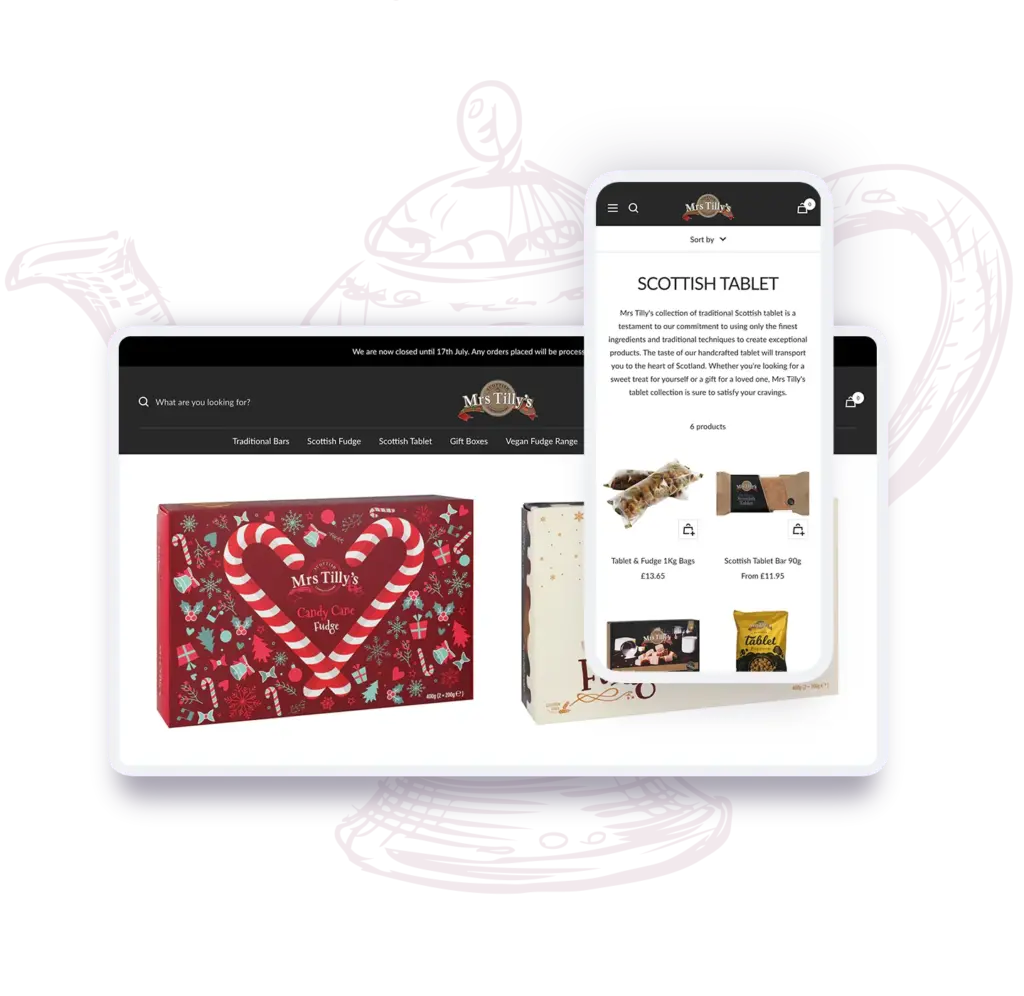 About the client
Mrs. Tilly's stands as a celebrated Scottish confectionery brand, distinguished for its delightful assortment of fudges and sweet indulgences.
This case study provides a comprehensive overview of the undertaken initiatives, the attained outcomes, and the ongoing strategies designed to sustain our SEO success.
SEO Agency
for Mrs Tilly's
Services provided
Shopify SEO
Conversion Rate Optimisation
Timeline and Goals
The initial engagement spanned from April to June 2023, encompassing three months of comprehensive SEO work on the Mrs Tilly's website.
At the heart of the project's objectives lay the enhancement of website traffic and conversion rates.
This endeavour involved the strategic incorporation of relevant keywords into Google search results and the optimisation of the website's structure to encourage effortless conversions.
The ultimate aim was to elevate the rankings of pivotal keywords, leading to an increase in organic traffic and a noteworthy rise in conversion rates.
A significant increase
in search engine rankings
This Shopify SEO campaign was executed methodically, focusing on several key areas:
Initial Analysis
A thorough analysis of the website's existing status was conducted, identifying both issues and opportunities.
On-Page Optimisations
The optimisation process encompassed refining meta titles and descriptions across crucial website pages.
Special attention was given to product pages, where content was enriched for enhanced user engagement.
Website Cleanup
Unnecessary, outdated, or dummy pages were removed or merged to streamline the website's structure.
Keyword Research
An in-depth keyword research phase was carried out. This involved examining competitors, evaluating keyword search volume, and assessing keyword difficulty.
Utilising the keyword research results, keyword clusters were formulated to maximise relevance and rankings.
Shopify Optimisations
The main navigation and collection pages were optimised to improve user experience and provide clear context to search engines regarding the product hierarchy.
Additional collections were established to support this effort.
Our results
after 3 months
76

%

YoY Sales Growth from Search
40

%

Increase in Average Order Value
376
Non Branded Keywords Ranked in Google
Improve your website's ranking with SEO to get more traffic from search engines.