Avoid Link Building Mistakes in 2023: An Ethical SEO Guide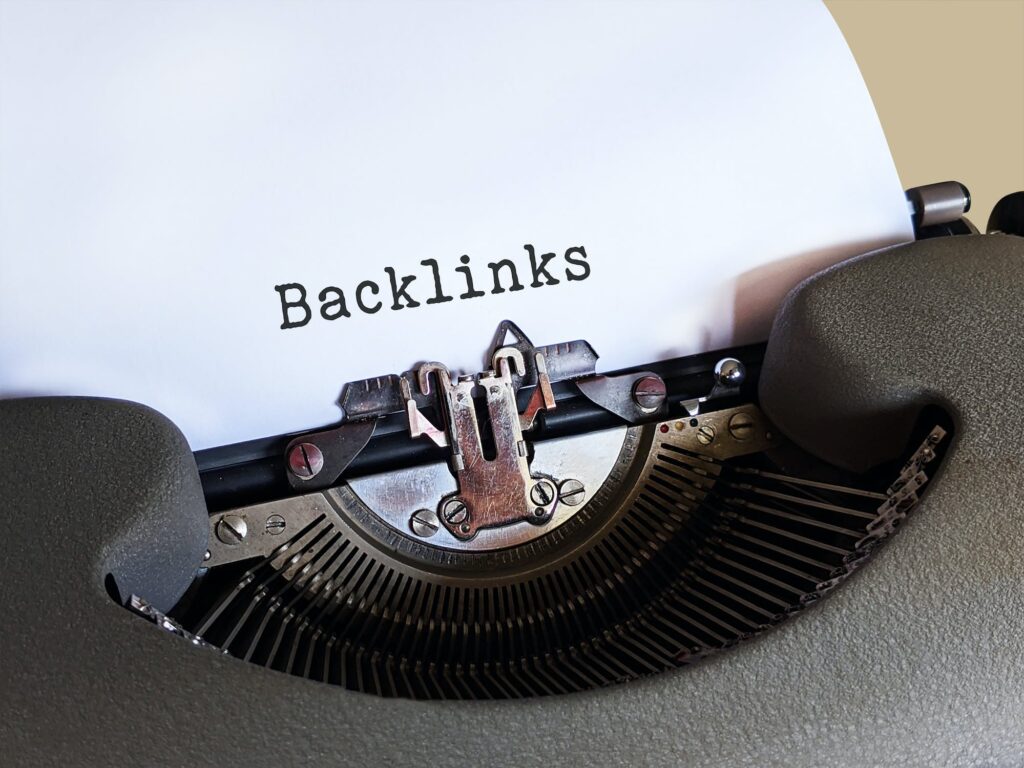 Effective link building is crucial to boost your website's ranking on SERPs.
By acquiring high-quality links, you increase your chances of ranking higher on the SERPs and reaching your target audience.
However, the process of link building is not always straightforward, and many people make mistakes that can harm their website's ranking.
To ensure that your link building efforts are effective and successful, it is essential to avoid the common link building mistakes listed below.
Table of Contents
Buying links
Buying links is when you pay another site to place a link to your website. However, this goes against Google's Webmaster Guidelines and can result in a violation. Such practices can manipulate search engine rankings and lead to penalties, including manual actions and exclusion from search results.
Be wary of low-cost offers for links, as they often come with the risk of being associated with irrelevant and potentially harmful sites. Remember, a legitimate link building strategy takes time and effort to cultivate high-quality links.
Posting on Private Blog Networks
It is widely known that Google is actively working to identify and eliminate the use of Private Blog Networks (PBNs) in search engine optimization.
As Google's technology and algorithms continue to advance, the use of PBNs will become increasingly risky and may lead to severe penalties or even complete removal from search results.
It's essential to stay away from such practices and focus on ethical, sustainable link building strategies.
Abusing reciprocal link building
A study by Ahrefs found that almost half of the 112,440 top-ranking pages have some reciprocal links.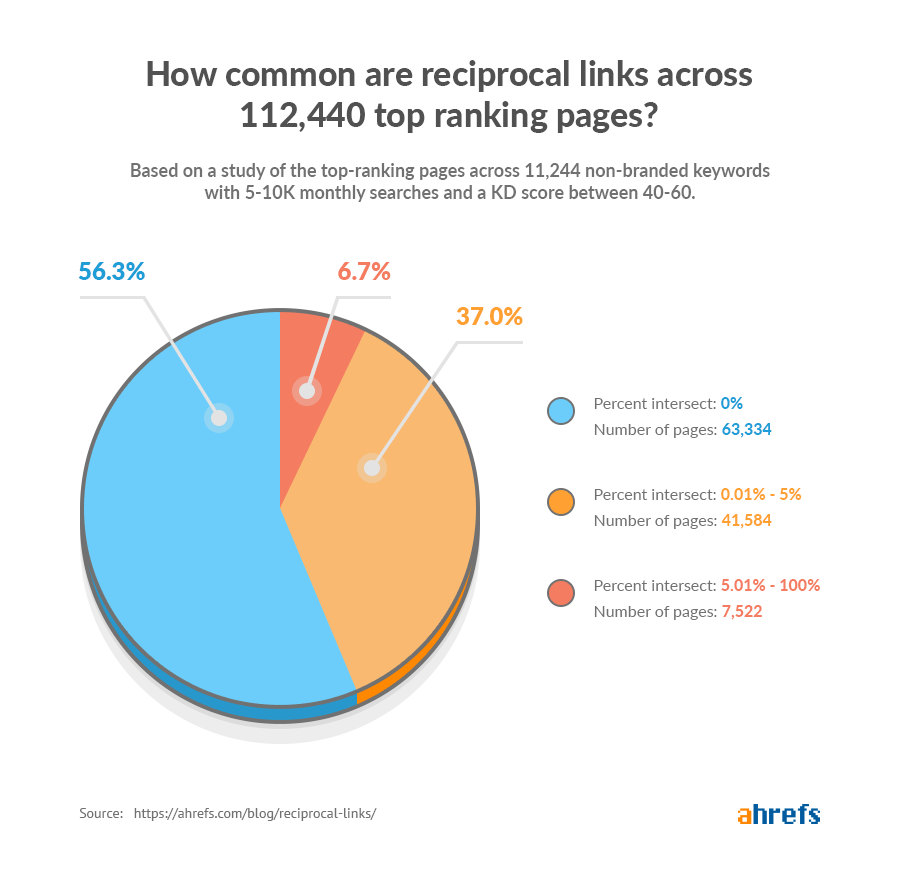 Reciprocal link building can be a beneficial practice when done naturally and organically.
It is common for websites to reference one another within their niche and receive links in return, which can help improve search engine rankings.
However, if reciprocal link building becomes excessive or manipulative, it can harm your website's credibility and search engine ranking.
Abusing reciprocal link building by contacting numerous sites and asking for excessive link exchanges, particularly on non-relevant or standalone link pages, can result in negative consequences for your website.
It's essential to maintain a balanced and natural approach to reciprocal link building to reap its benefits.
Not removing bad links
Maintaining a clean and robust link profile (the total of all links pointing to your site) is an important aspect of effective link building.
Failing to remove bad links can harm your website's search engine ranking and credibility.
It's important to regularly monitor your link profile and identify any broken links, link farms, or spammy websites. Once you have identified any problematic links, you should take steps to have them removed. If the website owner is unresponsive, you can use Google's Disavow Tool to signal to Google that you do not want these links to be considered part of your link profile.
Ignoring bad links in your profile can negatively impact your website's search engine optimization (SEO) efforts and should be taken seriously.
Creating links solely for link building
Keep in mind that the purpose of link building is not solely to gather links, but also to generate traffic and enhance the credibility and authority of your website. Obtaining links solely to increase your link count from subpar, unrelated sources is a typical mistake in link building that can harm your website's reputation.
Instead, prioritize building links from reputable, high-traffic sources that can drive meaningful traffic and enhance the credibility of your website.
Submitting to too many directories
Submitting your website to too many low-quality directories is one of the most common link building mistakes, and this can do more harm than good for your link building efforts. These days, search engines are capable of detecting and penalizing such practices.
Instead, focus on submitting to only a few high-quality directories that can bring actual traffic to your site. Look for niche-specific directories that are selective with their listings, or well-known directories like Best of the Web (BOTW).
Bulk directory submission, as an effective and scalable link building tactic, is a thing of the past.
Not checking your links regularly
Neglecting to regularly monitor your links is a common and easily preventable mistake in link building. Ensure that your links are active and functioning properly by conducting frequent checks. If a link is no longer working, reach out to the site owner to resolve the issue. By doing so, you can avoid the negative impact of broken links on your website.
Maintaining the health of internal links on your website is also very important, as a broken internal link can halt a search engine crawler's progress, limiting its ability to access other pages linked from that page.
Creating links that are not editorially placed
Creating links that are not editorially placed is a common link building mistake.
In other words, the link is not placed in an article, but rather in a forum or comment section.
Many websites allow users to leave comments, and you might consider adding a comment with a link to your website. It seems like a free link, doesn't it?
Generally, these are nofollow links, so they may generate some traffic, but they won't improve your SEO. Commenting on a select number of authority sites in your niche can very much be part of a white hat strategy, but the comments should be manual and relevant.
Abusing this may result in spam reports to Google, and Google may take manual action against you.
But don't get us wrong. Not every "non-editorial" link is a bad link. For example, linking to your site from your social media profiles is not going to do you any harm.
So the bottom line is to apply some common sense. If your non-editorially placed link has a valid purpose you are likely to be fine in Google's eyes.
Read also: What are backlinks from social bookmarking sites?
Creating links from websites that are not indexed by Google
Google only considers links from indexed websites when determining the relevance and authority of a site. If a website is not indexed, its links will not be seen or considered by the search engine.
Additionally, links from non-indexed sites may even harm your website's reputation, as they may be seen as low-quality or spammy links. To ensure that your link building efforts are effective, it is important to focus on acquiring links from high-quality, authoritative, and indexed websites.
Creating links from websites that are in a different language than your website
If your site is in the UK, Google would generally expect to see a good percentage of your links coming from other UK sites. Certainly, the bulk of your links should be from sites that are written in English.
A high percentage of low-quality foreign language sites (look for .cn and .ru in particular) linking to you is a big red flag.
Of course, if the foreign language site linking to you is high quality, then that should probably be fine.
Not optimizing anchor text
Anchor text refers to the clickable text that displays a link to another page or document. Optimizing it is essential for successful link building, but some people overlook this key aspect, leading to inadequate results.
Over-optimized anchor text
Anchor text optimization is a key aspect of link building, but it's easy to overdo it. Over-optimizing anchor text can happen due to the urge to keyword stuff or lack of variety in anchor text.
This can trigger penalties from search engines as it can appear spammy. The aim should be to create an anchor text that sounds natural and accurately reflects the content of your page, not just to stuff keywords in.
Remember, quality over quantity is key in link building.
Using the same anchor text repeatedly
Repeated usage of the same anchor text is a common link building mistake. Doing so can negatively impact your SEO as it can be seen as spammy by search engines.
The issue arises when all of your backlinks have matching anchor text with the target keyword on the target page. This raises suspicions with Google and may result in penalties.
To avoid this, ensure your anchor text is relevant to the page you're linking to, and vary your keywords and phrases to describe your content. This helps create a natural and non-spammy appearance.
Neglecting the link's title
Neglecting the title of a link during link building is a common mistake.
The title, shown when hovering over a link, conveys crucial information to search engines about the linked page's content. Failing to provide a descriptive and relevant title may confuse search engines and harm your SEO. Ensure link titles accurately reflect the linked page's topic, for example, "dog food" for a page about dog food, not a generic "click here."
Creating links with the wrong anchor text
Search engines use anchor text to determine the relevance and context of the linked page, so if the anchor text is misleading or irrelevant, it can lower the credibility and ranking of both the linking and linked pages.
In addition, it can also give users a poor experience if they click on a link expecting one type of content, but receive something completely different. Therefore, it's important to choose anchor text carefully and ensure it accurately represents the linked content.
Guest posting on irrelevant websites
Guest posting on reputable sites within your industry, with mainly branded anchor links, can be beneficial for your link building. However, if your focus is solely on quantity and exact match anchor text, it can result in penalties from search engines.
Not measuring results
A common error in link building is failing to track results. Simply building links does not guarantee increased traffic or conversions.
To maximize the success of your link building efforts, it's crucial to monitor progress and evaluate results. This allows you to make adjustments to your strategy and maximize the benefits of your efforts.
Not leveraging relationships
If you're not leveraging relationships, you're missing out on a key opportunity for obtaining high-quality links. Building connections with other industry webmasters, relevant companies, and brands expands your content reach and increases the likelihood of getting more links and exposure for your business.
Not monitoring your competition
Failing to monitor competitors results in missed opportunities to enhance your link building strategy.
Competitive analysis reveals potential opportunities and risks, as well as inspires new tactics.
Keeping an eye on the competition keeps you ahead of the game.
Not Focusing on Quality Over Quantity
Link building often focuses on quantity over quality, but this approach is misguided.
One link from a reputable website holds more weight for search engine rankings than numerous links from low-quality sources.
Ignoring link quality and indiscriminately acquiring links from any available website can lead to toxic backlinks and violate Google's spam policies.
Focus on obtaining links from high-quality, relevant websites for optimal results.
Not Building Links Gradually
According to John Mueller, building too many links in a short period of time is not an issue in itself, rather it is the types of links you are likely to build during that time.
In many cases, these links might violate of Google's policies.
If you use automated programs or services to create links to your site, you will be violating the Link spam policies for Google web search.
You should take your time and build your links gradually, taking into account the following tips:
Search for websites that are relevant to your content and high-quality.
Do not use link farms or low-quality directories.
Avoid adding too many links from the same site, as it will look unnatural.
Use a variety of link building strategies, including guest blogging, directory submissions, and social media.
Not Building Links to Internal Pages
Focusing solely on homepage link building is a common mistake in link building. Neglecting internal pages means missing an opportunity to boost your website's SEO.
To maximize your link building efforts, aim to link not just your homepage but also important pages such as your about, product/service pages, etc.
This will improve your search engine ranking and help more users access information easily.
Not diversifying your link profile
To maintain a strong link profile, it's important to diversify link sources. Relying on a single source can harm your website's SEO and impact rankings.
Search engines value links from diverse sources as a marker of legitimacy. Diversify your links by exploring various sources such as guest blogging, blog comments, directories, and social media for better SEO results.
Not creating link-worthy content
Creating link-worthy content is crucial to enhancing your website's SEO. Not only does it provide value to your audience, but it can also attract backlinks from other sites.
Developing such content can be challenging, which is why working with a content marketing agency or an SEO professional can be of great benefit to your website. They can assist in creating content that not only ranks well with search engines but also generates valuable backlinks for your site.
Creating links that are not relevant to your content
Links from irrelevant websites, such as adult sites or link farms, can harm your website's SEO.
Using hacked sites for link building is illegal and may result in penalties. Ensure that the pages linking to your site are topically relevant to improve your website's search engine optimization.
Building ONLY dofollow links
Dofollow backlinks are those that you want Google's bots to follow. Nofollow links, on the other hand, indicate to Google that the link is there, but it shouldn't be followed (this is done by an attribute rel="nofollow" to the link).
The nofollowed links do not impact the search engine rankings of the destination URL, since Google does not transfer PageRank to the destination page.
In real life, many websites place a nofollow attribute on their external links. So, having all your backlinks as dofollow will look unnatural in the eyes of Google and you may get penalized. The same applies if you only have nofollow links pointing to your website.
For example, the following links will look suspicious:
Dofollow links from unrelated sites/content.
Dofollow links from pages that have obvious footprints such as "sponsored post".
Link building is essential for SEO success, but it's easy to make mistakes. Avoid buying links or posting on private blog networks. Create links for traffic and credibility, not just for quantity. Focus on relevant quality sources.
Click To Tweet
In conclusion, proper link building is crucial for a successful SEO strategy. This list of common link building pitfalls highlights the importance of being mindful of your link building approach.
Our digital agency can help your business achieve better search engine rankings, increased traffic, and improved online visibility.
Simeon Prokopov
I am a managing partner at Agile Digital. A graduate of Modern Balkan history, I made a complete pivot in my career when, together with Juan Pineda, we founded a nearshore design and development studio Sofyma in 2009, followed by our digital agency Agile Digital several years later. Over time, I have worked on hundreds of digital projects from small startups to global brands. I enjoy writing in our Blog about topics I am actively involved in at work.