Website Migration and Design Implementation
Userlane approached our team to tackle a critical challenge. Their website had a cluttered structure and lacked a cohesive design, impacting their online presence and user experience. We were tasked with revamping their website, implementing a new design on WordPress, and improving overall performance.
The project
in a nutshell
The Challenge
A thorough analysis of the existing website revealed significant issues including poor structure, mixed language content, and limitations of the rigid content management system, leading to visitor confusion.
The Solution
Our team undertook a website migration and redesign implementation project for Userlane, aiming to improve the website's visual appeal, functionality, and usability to address the existing challenges effectively.
The Results
Userlane achieved substantial improvements, including enhanced website management, improved user experience, increased organic traffic, and improved search engine rankings.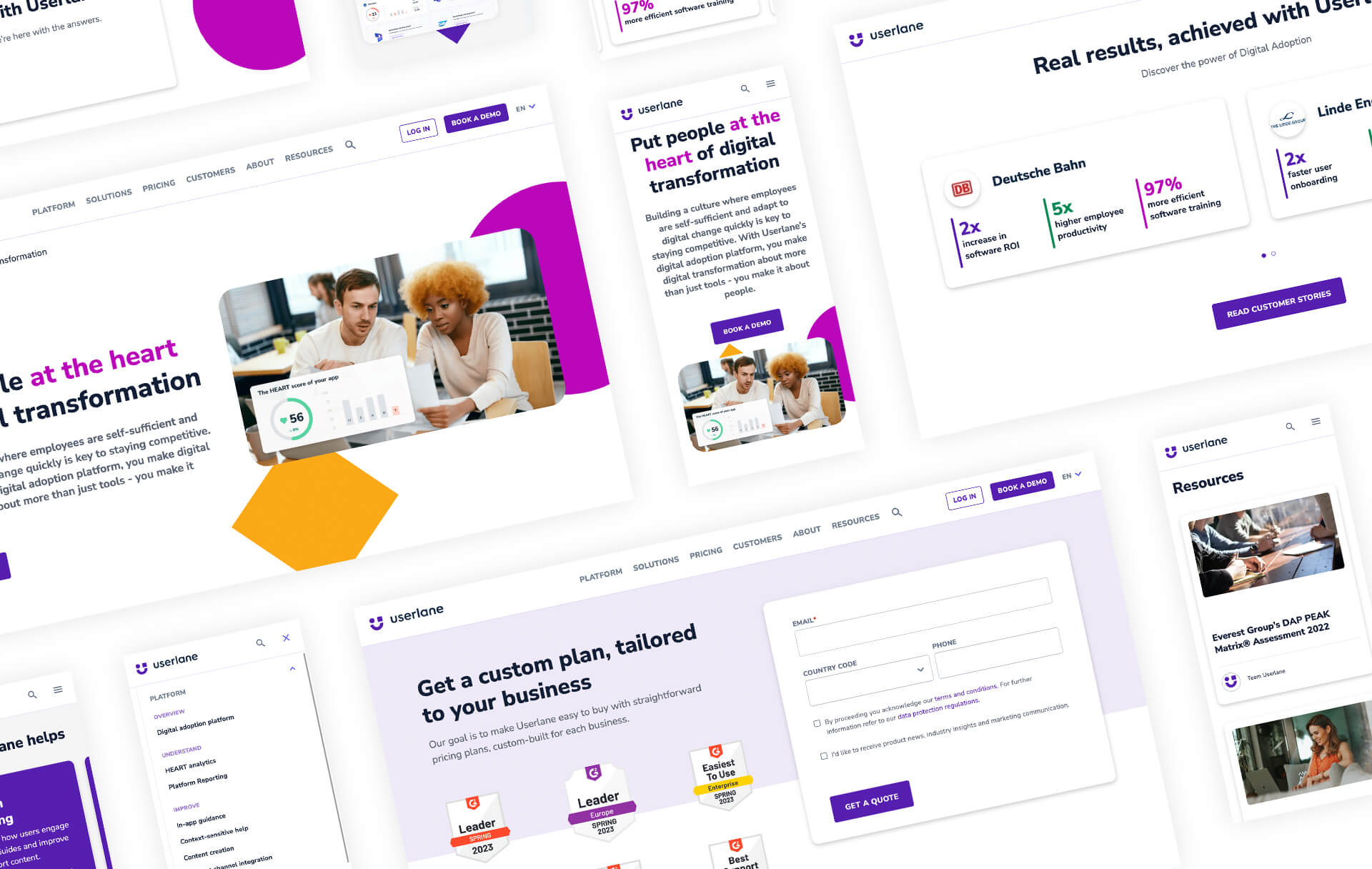 Rebuilding
Userlane's Website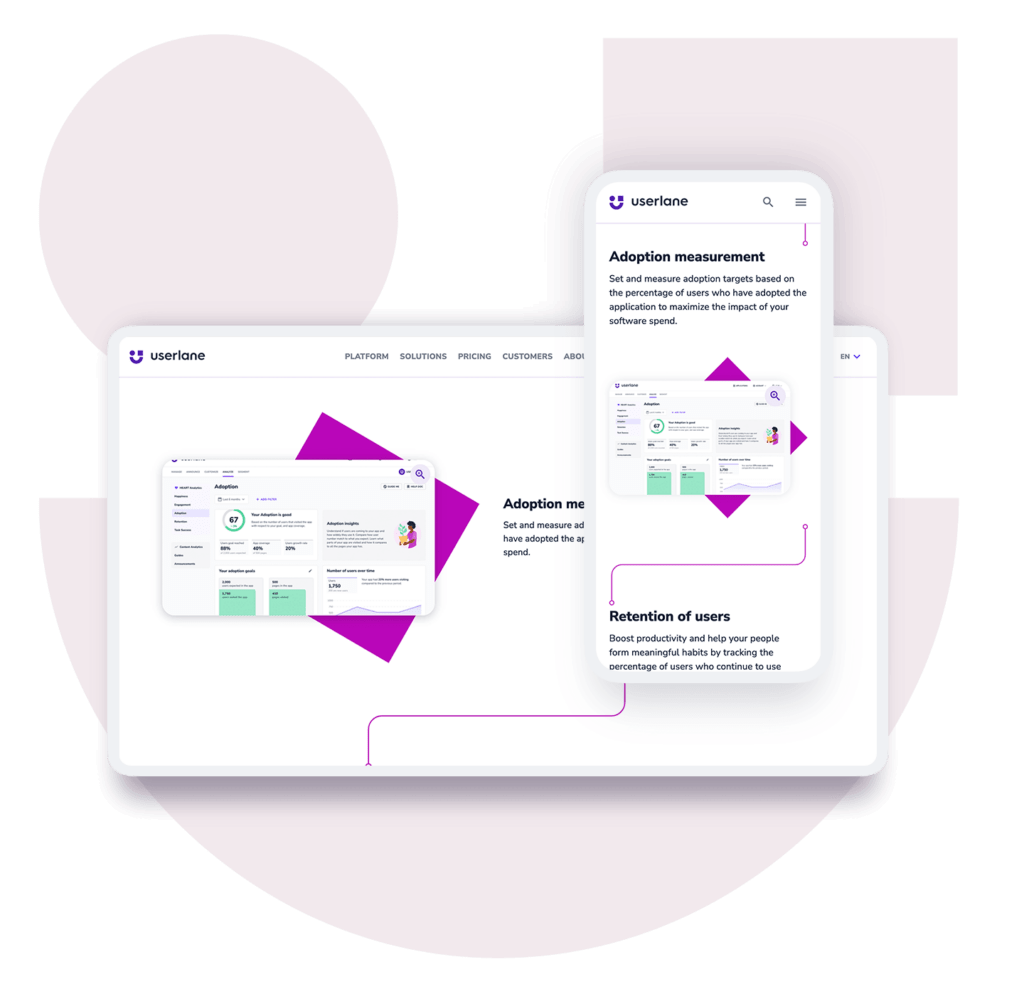 Client Background
Userlane is a leading software company that specialises in providing interactive user onboarding and product adoption solutions.
They approached our team with a critical challenge – their existing website suffered from a cluttered structure and lacked a cohesive design, hindering their online presence and user experience.
They sought our expertise to revamp their website, implement a new design using WordPress, and improve its overall performance.
Project
Details
Services provided
Multilingual Website
Content Migration
Website Hosting
The
Problem
Upon analysing the existing Userlane website, we identified several key issues. The website had been poorly created, with content mixed across different languages and lacking a proper structure.
This resulted in confusion for visitors and hindered the effective delivery of the client's messaging and services.
Additionally, the content management system (CMS) in place was rigid and limited, restricting the client's ability to create and manage pages efficiently.
Our
Solution
To address the challenges faced by Userlane, our team embarked on a comprehensive website migration and redesign project. We aimed to provide a solution that would not only enhance the website's visual appeal but also improve its functionality and usability.
Website Migration
We seamlessly migrated their existing website to a newly built WordPress platform, leveraging its flexibility and extensive capabilities.
This ensured a smoother transition while preserving the existing content and minimising any potential disruptions during the migration process.
Flexible and Intuitive CMS
We built a flexible and intuitive CMS tailored specifically to their requirements.
This empowered the client to create and manage various types of pages effortlessly, allowing them to adapt and scale their online presence according to their evolving needs.
Design Implementation
Working closely with Userlane's team, we developed a custom WP theme to implement their visually appealing and user-friendly designs.
The new design incorporated intuitive navigation, consistent branding elements, and an organised structure to enhance the overall user experience.
The Results
Following the successful implementation of our solutions, Userlane experienced significant improvements across multiple fronts:
Enhanced Website Management
The intuitive interface and robust features allow them to easily update content, create new pages, and make timely adjustments to their offerings without relying on external assistance.
Improved User Experience
The structured layout and clear navigation enable users to find information more efficiently, ensuring a positive and engaging interaction with Userlane's products and services.
Enhanced Performance
The optimised website architecture has led to a significant boost in the website's overall performance, increasing user engagement, organic traffic and visibility.
Conclusion
Through our expertise in website migration, design implementation, and customised CMS development, we successfully transformed Userlane's website into a powerful online asset.
The combination of a visually appealing design, an intuitive CMS, and improved performance has empowered Userlane to effectively showcase their solutions, engage with their audience, and achieve their online objectives. If you're facing similar challenges with your website, we can help you too.
Contact us today to discuss how our expertise can elevate your online presence and deliver tangible results.